New York City is about as far away from La Crosse as a person can get in so many ways, but living in Manhattan actually brings back memories of Viterbo University for Nikki Beyer '15.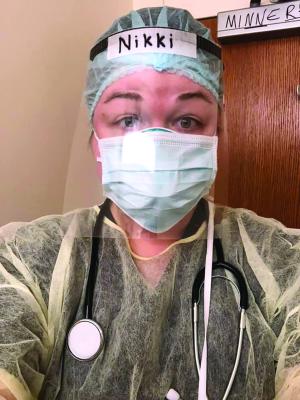 A registered nurse, Beyer arrived in New York in April for a 13-week stint at Elmhurst Hospital, a city-run facility treating only patients with COVID-19 when she started. When she gets done with a 12-hour shift at the hospital in Queens, she goes back to Manhattan, where she takes the stairs to her fourth floor apartment.
"It takes me back to my good old Bona days," Beyer said with a laugh, recalling her time at Bonaventure Hall. "I've got calves of steel now."
Beyer shares the apartment with her fiancé, James, a CNA she met at a hospital in Ashland, Ky., her first job after graduating from Viterbo. For more than two years, the pair have been working as traveling nurses, taking jobs for three to six months at hospitals that need temporary help while filling vacancies.
During her travels, Beyer has worked at hospitals that had heavy burdens from people dealing with homelessness and drug addiction. Late last year, she took a six-month assignment at the University of Wisconsin Hospital and Clinics in Madison and had few of those hard cases she had encountered previously. "It was almost like a vacation," she said.
As her contract in Madison neared its end and the ­COVID-19 pandemic unfolded, Beyer and her fiancé were determined to go somewhere they would be on the front lines of the coronavirus battle, settling on New York. "We felt like it was our responsibility as young professionals to go out there and help," she said. "We just felt like we wanted to make a difference."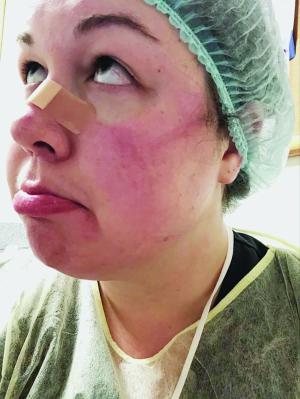 During the first part of the COVID-19 outbreak in New York, Elmhurst Hospital was one of the medical facilities most overwhelmed with patients, with one doctor there describing the situation as "apocalyptic." There was a shortage of personal protective equipment for staff, there weren't enough ventilators for all the critically ill patients, and there was no centrally located way to monitor patients, so nurses had to go from room to room.
Beyer, who reported for duty April 27 (after the hospital's worst days), said at the height of the New York outbreak Elmhurst had a death every few minutes and had to have a fleet of refrigerated semi-trailers to store their bodies.
Elmhurst still has some PPE shortages, Beyer said, noting that nurses have to reuse N95 masks for five shifts before they will be issued a new one, a practice that increases the risk of infection. While she's in the unit where she works, Beyer has to wear the tight-fitting N95 mask constantly, leaving her face deeply lined and sore at the end of a shift.
On the bright side, she said, the number of COVID-19 cases at Elmhurst is subsiding enough to start converting parts of the hospital back to other uses, although her unit will be COVID-19 patients to the end.
After her New York contract ends, Beyer plans to return for a quarantine period to her hometown of Winona, Minn., where she was a standout basketball player at Cotter High School. She said she's not sure where she'll end up after that, but somewhere down the line she might want to use her nursing knowledge and skills to pursue the other career she considered—education.
Although she wavered between education and nursing when she was in high school, Beyer said she never seriously considered any school but Viterbo.
"I didn't want to go anywhere else, and I've never regretted that decision," Beyer said. "It was challenging, but it has to be, especially with nursing. It's not a profession for the faint of heart. I feel Viterbo definitely does a great job."