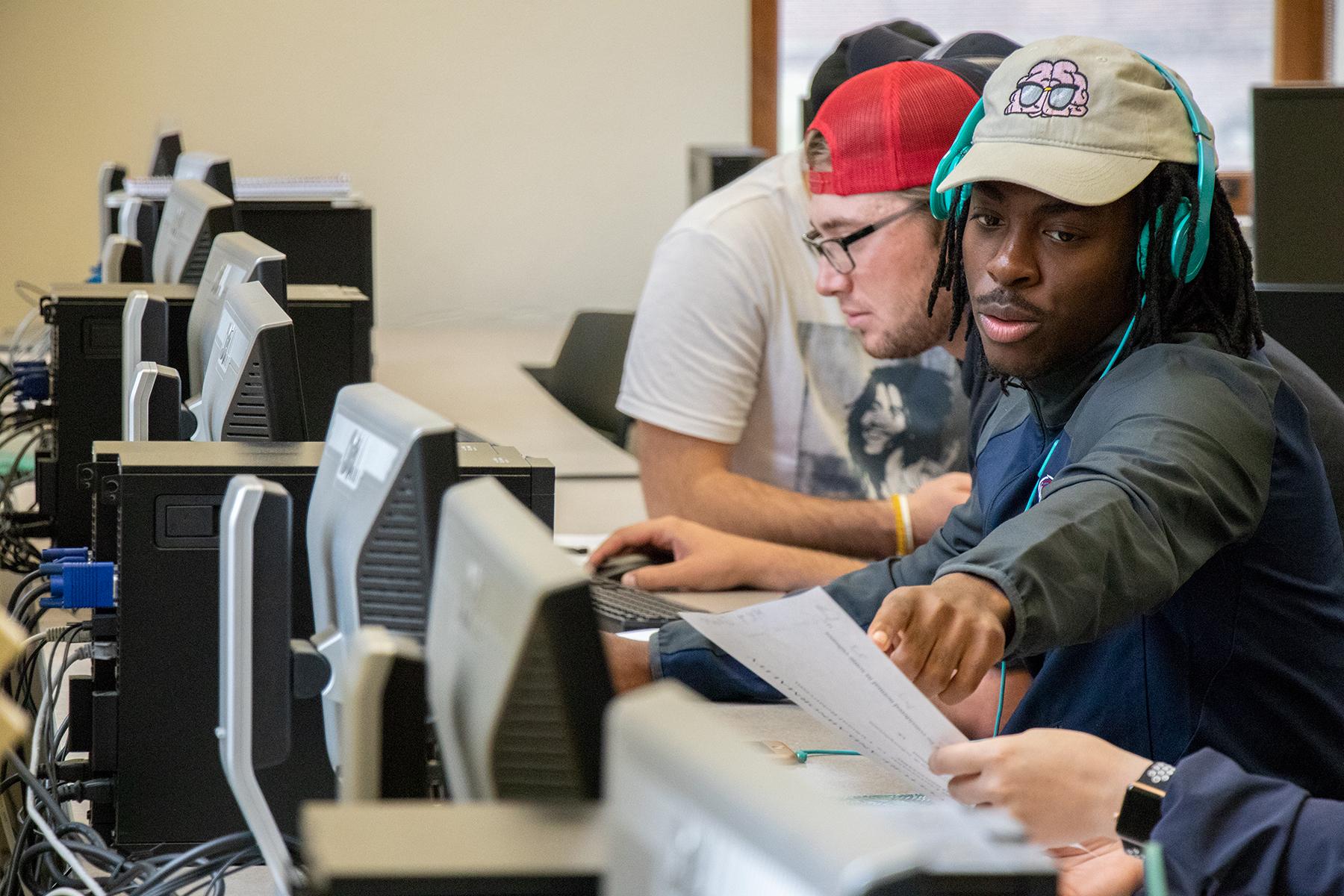 Just as investors have portfolios of holdings and investments, universities have portfolios of their own made up of academic programs. Universities, like investors, have to pay attention to return on investment and keeping diversity in the portfolio to limit risk as situations change.
So when Viterbo adds new academic programs, it's like making new investments designed to keep the university's portfolio healthy and ensure the institution can keep going strong.
In March, Viterbo announced some major additions to its portfolio: a new undergraduate major in computer science and new graduate degree programs in school counseling, nursing, and nutrition and dietetics.
The new programs are a result of a strategic enrollment planning process that began in February 2017 and represent a significant investment of time and resources. In addition, enrolling planning is one of the cornerstones of Viterbo's five-year strategic plan approved in October 2019.
"We are proud to invest in new programs to better serve our students, area employers, and the region overall," said Viterbo University President Glena Temple. "Viterbo has a long history of modifying our portfolio of academic programs to meet the needs of our community."
Michelle Kronfeld, Viterbo's vice president of enrollment management, has spearheaded strategic enrollment planning since she was hired in 2017. Investing maximum effort in determining the right academic programs to offer, she said, is vital for Viterbo's financial health and future prospects.
"We don't want to look back and say, 'Why didn't we build, why didn't we grow,'" Kronfeld said. "Our opportunity is now to balance our portfolio and enhance our reputation."
The four new graduate degree programs fall in areas for which Viterbo has a stellar track record already: education, nursing, and nutrition and dietetics.
The new computer science undergraduate program being launched in fall 2022 is part of a concerted effort to strengthen STEM offerings at Viterbo, an effort that already has seen the addition of an engineering degree program.
The computer science program will combine a strong foundation of computer science with an additional area of interest that will enable graduates to design and build software that creatively solves complex problems. The project-based curriculum will ensure students graduate with a portfolio of programming work and the critical teamwork and communication skills sought by employers.
"We can offer students a unique experience," said faculty member Tammy Clark, PhD, chair of the Viterbo engineering, mathematics, and chemistry department. "This will be a hybrid computer science program incorporating one of five tracks, allowing students to combine their individual passions into a career within a variety of fields."
The five computer science program tracks are creative design, business, data science, mathematics, and engineering. The computer science major also will feature an embedded internship with a local company and a major two-semester capstone industry-related design project.
To make Viterbo even more attractive as a place to study computer science, the university also plans to add computer gaming — "eSports" — as a varsity athletics activity, with creation of an eSports arena in the works this year.
The graduate programs include the following:
Master of Science in School Counseling: Beginning in fall of 2021, the 60-credit Master of Science in School Counseling program is designed to prepare school counseling professionals to be interpersonally skilled and culturally competent in meeting the diverse needs in the K-12 educational environment. This program will emphasize the skill sets necessary to meet the challenges within a school, such as learning about trauma-informed school counseling practices, courses in play therapy, and prevention and interventions in the schools. It is designed to meet the state requirements for licensure for school counselors in Wisconsin.
"This program will prepare individuals to work in the schools through course work and clinical-based field work at the elementary and secondary levels," said faculty member Carol Smith, PhD. "This program is designed to provide the necessary knowledge and skills for our graduates to make a difference in the lives of children and their families."
The format is designed for working professionals with classes held on Thursday evenings and weekend courses offered on Friday evenings and Saturdays. The program is ideal for people with a degree in psychology, education, criminal justice, sociology, or youth ministry but is easily accessible to anyone with a bachelor's degree and a desire to work with children.
Direct Entry Master of Science in Nursing: Viterbo's direct entry Master of Science in Nursing is an accelerated 65-credit program that allows students with a baccalaureate degree in a discipline other than nursing to progress through coursework in five semesters (18 months) leading to initial RN licensure.
"Students will learn about all the factors that contribute to health and wellness and examine common health inequities and inefficiencies in order to lead effective change in all health care settings," said Viterbo nursing faculty member Cameron Kiersch. "With a focus on leadership, innovation, and equity, the program focuses on the challenges nurses face across the health care delivery system and equips them with the tools to change systems and promote health."
Ideal for people with a science-related undergraduate degree, this degree can also be pursued by individuals with a non-science related degree with the addition of pre-requisite coursework. This program is delivered online with in-person clinicals and labs.
Post-BSN to Doctor of Nursing Practice (DNP) in Adult-Gerontology Acute Care: An additional Post-BSN to Doctor of Nursing Practice program will be available beginning in May—Adult-Gerontology Acute Care. It will include both post-BSN and post-MSN entry paths and will educate nurses to manage patient care in acute care settings.
Acute care nurse practitioners provide care for people who are physiologically unstable, have rapidly changing conditions, or have a complex, chronic illness. Their expertise, which is in high demand, includes performing advanced, invasive diagnostic and therapeutic procedures. The program is a blend of online and face-to-face coursework with 74 credit hours and 840 clinical hours.
"There is a particular need in a rural state like Wisconsin for acute care nurse practitioners who can provide high quality emergency and urgent care in a critical access setting," said Mary Ellen Stolder, director of Viterbo's graduate nursing program. "This program track will offer the necessary skills, educational preparation, collaboration, and supervision to meet the demand for more intensive care services."
Master of Science in Community Medical Dietetics: Students with a bachelor's degree in nutrition or other science-related field will be able to obtain an advanced practice or initial RDN practice master's degree in dietetics through the Master of Science in Community Medical Dietetics. The program will offer a path designed for RDNs seeking advanced practice expertise, as well as a track for those seeking to become an RDN.
The program was created in part to accommodate a change by the Commission on Dietetic Registration that will require a master's degree to become a registered dietician after Jan. 1, 2024. Beginning in fall 2021 the master's program will offer a track for individuals looking to become a licensed RDN, providing the foundational courses, clinical experiences, and advanced dietetic coursework.
"The program prepares graduates with the advanced knowledge and skills to become progressive and innovative leaders in dynamic health care settings," said nutrition and dietetics graduate program director Kelsey McLimans. "It offers an individualized curriculum with the opportunity to tailor electives to interests. There will also be an option for students to complete the program at a distance."