Jenna Larson came to Viterbo University to study nursing, but soon started to feel like the major wasn't quite the right fit for her.
"Then one day I was sitting down with my younger sister helping her do her math homework and I completely retaught her a math problem," Larson recalled. "I had this amazing lightbulb moment. I was like 'wow, this is the thing that I'm missing in my life.'"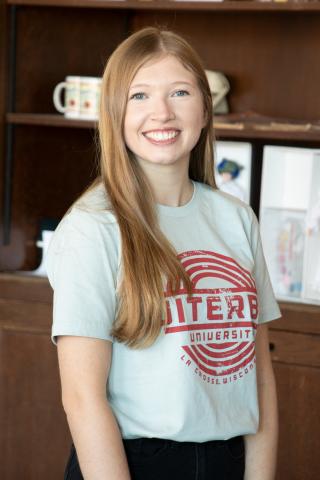 When she got back to Viterbo, Larson changed her major to elementary education, with a minor in special education, and she hasn't looked back since.
"Every single class makes me feel more knowledgeable in what I'm about to do and I feel a burning passion for teaching," she said. "That day lit a fire underneath me and I'm ready to go into the workforce; I'm just excited." 
Now in her senior year, Larson, who is from Chippewa Falls, was the co-president of the student education club at Viterbo last year, and has thoroughly enjoyed the classroom experience at Viterbo.
"I think the program makes you feel prepared to teach and be knowledgeable in your field, especially with all the different classes we have," she said. "We have a lot of fun too, it's not like your typical class, we do a lot of projects, and get a lot of insight into how to teach."
Larson lives on campus at Viterbo and loves it.
"When you walk past somebody going to class, everybody says hi to you, or there's always a smile on their face," she said. "You just feel welcomed. It's a very nurturing community; you feel like there's always going to be somebody there to help you."
Larson is appreciative of the many resources available to students at Viterbo outside the classroom. Tutors, academic, and career advisors all work closely with individual students to help them reach their goals, both academically and after graduation.
"The resources they provide for you are amazing, like being able to go to a counselor or work with writing specialists, and I love how they help students with disabilities excel in classes. The faculty here, they are so friendly, and they are willing to help you whenever you need it," Larson said.
Looking back to her high school days, Larson said she was initially concerned about the cost of going to university.
"I come from a family of 11, so the money aspect of it was very scary for my parents, but I received a lot of scholarships from Viterbo, which was amazing."
Larson is definitely excited, if not a little nervous about the future, but feels confident she's equipped with the tools to succeed as a teacher. However, once she graduates, she will miss Viterbo.
"Everybody at Viterbo becomes your family," she said. "It's a home away from home, and I just love that."