Elisabeth had two things she wanted to do when she grew up. She wanted to earn her Bachelor of Fine Arts (BFA) and she wanted to perform. For that, she thanks YouTube. "What 10-year-old knows they want a BFA?" she asked. "I did."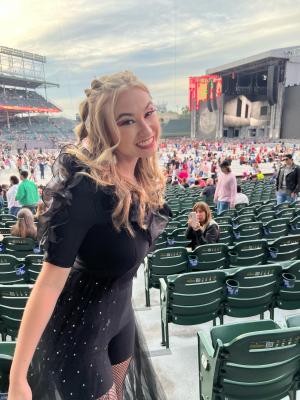 Elisabeth grew up in the southeastern Wisconsin community of New Berlin and attended Wisconsin Lutheran High School. When she was in youth choir, she volunteered to play a role in her high school's musical. Elisabeth was hooked. "I looked for all the local community theatre camps and programs. In high school, there was no shortage of the arts, and I participated in dramas and musicals, concert choir, and show choir," she said. From voice lessons to drama club and summer theatre intensives, Elisabeth immersed herself in acting.
Along came COVID and her junior year of high school changed overnight. Typical college preparation, including tours and advising meetings, came to a screeching halt.
Fast-forward to her senior year. With college plans uncertain, Elisabeth was searching online hoping to find a good fit when she discovered Viterbo University. "A top theatre school in my own state!" she exclaimed.
She did not let the missed application or audition dates get her down and she certainly didn't let COVID stand in her way. Elisabeth auditioned from her kitchen. (Virtual auditions were incorporated during Covid, but Viterbo has since returned to live auditions.) She then later toured the campus. "Everyone said hello to us and was so genuinely happy to see us there," she said.
The aspiring actor stood on the stage at the Main Theatre in the Fine Arts Center and took it all in. "I felt a pull, that Viterbo was where I was meant to be," she shared. She was on her way to her senior prom, also Decision Day, and she committed to Viterbo.
What does Elisabeth enjoy most about Viterbo? She likes the small, personal class sizes. A quick walk from her campus apartment to the Fine Arts Center is also a plus. She really appreciates that she can run into so many people she knows along her way.
Elisabeth is thrilled that Viterbo encourages her to explore other interests. She has two work-study jobs. She works at the costume shop and she runs the Music Theatre and Theatre social media accounts. As campus ambassador for Bubbl'r Sparkling Water, Elisabeth spreads products and merchandise with Viterbo students to create brand buzz.
National touring shows that come through Viterbo, such as Hairspray, give students unique, hands-on opportunities in their craft. "A Viterbo alumna was in the cast, Elisabeth said. I was on the wardrobe crew and met and interacted with the performers, including Nina West!"
 "It was a really special and invigorating experience for students to see a glimpse into what their future could look like." – Elisabeth Meyer '25 about working with the national touring show, Hairspray.
What are Elisabeth's hopes and dreams for her future? "I want to do it all! I want to be a performer." She also thinks that film and TV would be another cool direction, thanks to one of her courses, Acting for the Camera. And then there is Elisabeth's interest in exploring costume design, hair, and makeup.
"As long as I am surrounded by art, music, theatre, and fashion, I will be content, because those are the things that light me on fire and fill me with passion and joy!"