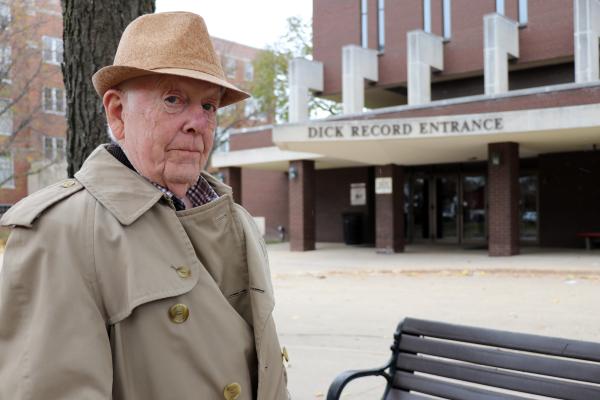 Radio Legend Has Been a Champion for the University
In the past half century, Viterbo University has seen a lot of change, with five presidents overseeing an ever-evolving and growing campus, but there have been a few constants. One of them is Dick Record.
"Dick is just so incredibly devoted to Viterbo. If you want to talk to somebody who supports Viterbo, just go to Dick," said Jean Moore, FSPA. "He's just a great ambassador. And if he sees a need, he does what he can to meet that need."
Moore, who between 1990 and 2005 taught and filled administrative roles at Viterbo, went on a pilgrimage to Assisi, Italy, in 1999 with a group that included Record and since 2007 has served on the Viterbo board of advisors with Record.
"I have always found him to be a very sociable and sensible individual to talk with and have fun with," Moore said. "And he has the best ties."
Record came to La Crosse in 1971—just after Viterbo's Fine Arts Center was completed—to take on the role of general manager at WIZM-AM. He had made a name for himself as a radio journalist in Madison known as PK Powers, but when he came to La Crosse he ditched that moniker to use the one with which he was born.
"I wanted to be real here," Record said.
A huge fan of the arts, Record remembers being impressed with Viterbo's new Fine Arts Center when he came to town, and when Record was asked to join the board of advisors in the mid-1970s, Record jumped on board.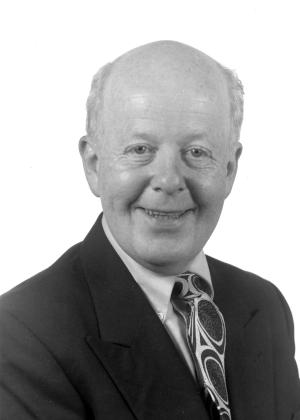 After getting his first job in radio in 1955 as a high school student in Sharon, Pa., Record studied advertising at Youngstown State University in Ohio, but he certainly didn't consider himself an expert on higher education when he joined the Viterbo board of advisors. You might say he's an expert now.
Record served for a few years as president of the board of advisors, and he served on the university's board of trustees, helping make decisions on the Amie L. Mathy Center for Recreation and Education and remodeling projects during his tenure.
Viterbo hired Robert Gibbons, the university's first lay president. Record recalls Helen Elsbernd, FSPA, inviting him to have dinner with the new president but she refused to tell Record his name. It was supposed to be a surprise, but it was an even bigger surprise than Record expected. Record knew Gibbons from their time together at Sharon High School, where Gibbons was in the class behind Record.
"Bob was a hell of an athlete in high school. Plus he got all A's all the time—I sure never did," Record said.
Even though he didn't get all A's like Gibbons, Record has had an exceptionally successful career with Mid-West Family Broadcasting, earning a place in the Wisconsin Museum of Broadcasting Hall of Fame in 2001. And his career is still going. At the age of 80, he's only semi-retired, still serving as the company's vice president and national sales manager.
Full retirement has no allure for Record. "I don't know what I would do," he said. "I'm not going to watch Judge Judy all day."
In June 2019, Record joined the ranks of emeritus members of the board of advisors, but he still attends meetings, and he is still a member of the Fine Arts Center board.
John Medinger, a longtime friend of Record and fellow member of the board of advisors, said nobody who knows Record would be surprised at his continuing commitment to helping Viterbo.
"He is kind and generous in so many ways in the greater La Crosse community and freely gives of his time and talent on several committees and boards," Medinger said. "He has been a great asset to Viterbo, giving generously of his time, wisdom, and money to help Viterbo grow and to educate the leaders of tomorrow."
In 2014, Record received Viterbo's highest nonacademic honor, the Saint John XXIII Award for Distinguished Service. A fellow Saint John Award winner and former chair of Viterbo's board of trustees, Mary Ann Gschwind, FSPA, confirmed that Record's recognition is well deserved. "He has a strong commitment to everything Viterbo stands for," Gschwind said. "He's been 5,000 percent behind Viterbo for as long as I can remember."
Should there come a time when Record is done serving on Viterbo advisory committees, his presence still will be tangible on campus for years to come. He's largely responsible for the musical sculpture on the north side of the Fine Arts Center, and as of fall 2019, the western entrance to the Fine Arts Center has been named in his honor.
Reflecting on his history of philanthropy, Record said cementing a personal legacy is a factor. "I think ego drives a lot of philanthropy for anybody," he said. "They say 'no,' but it's true."
But a desire to do some good looms just as large in the picture. "If it's an organization that I really like, then I'm always willing to help," Record said. "It depends on who asks. If they're sincere and they're good at what they do, then I'm raw meat."