Top 10 Reasons it's Great to Transfer to Viterbo
Top 10 Reasons it's Great to Transfer to Viterbo
1. You'll get the support you need 
You'll be supported every step of the way at Viterbo. We have a Transfer Transition Program that is designed to provide our new transfer students with resources to aid in a smooth transition to Viterbo University.  Our advisors will help you explore your academic major, get more information about Viterbo services, and connect you with a peer mentor to aid in your successful transition to Viterbo.
2. There's so much to experience 
At Viterbo, you really can do it all. There is an incredible variety of experiences to enjoy here that you won't get anywhere else, like the opportunity to sing in one of our choirs, to lead a research project, get a paid internship, and work one-on-one with faculty and tutors to prepare you for success.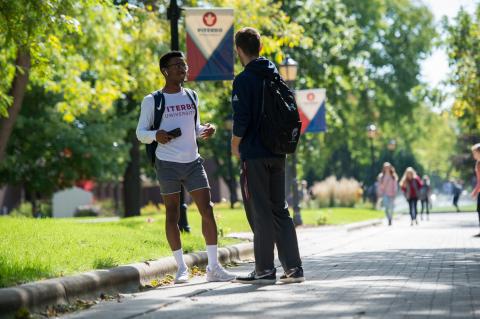 3. Professors who've got your back 
Our students will be the first to tell you their professors really care. Viterbo faculty want their students to succeed, and that means they're available outside the classroom to answer your questions, they'll get to know you and your goals, and they'll help you reach them.  
4. Viterbo is forever 
Our campus is a place where friendships that last a lifetime are forged. We value meaningful connections, and, at Viterbo, it's easy to make friendships that matter. Our small class sizes make it easy to get to know your classmates and your professors, and the many student-led clubs and activities are places to meet new people while learning new skills.  
5. V-Hawks know how to have fun 
College isn't just about studying, and, at Viterbo, we know how to have fun. Whether it's during our Courtyard Carnival, at one of our Weekends at VU events, attending an athletic event, or simply hanging out around campus, this is a place where there's always something happening. 
6. A university where you can be yourself 
 At bigger colleges, students can get lost in the crowd. Not so at Viterbo, where our small class sizes and the constant opportunities to get involved build confidence and encourage individuality. This is a place where students are challenged to find their own path to success.   
7. Beautiful La Crosse 
Viterbo is in the heart of beautiful La Crosse, a great college town that's packed with things to do. Our student-friendly downtown buzzes with activity in its shops, cafes and restaurants, while the bluffs that overlook the city are a great place to hike and enjoy nature. La Crosse is our home, and we love it. 
8. Our values matter 
We don't just talk about our values; we live them every day. Viterbo's core values include hospitality, which is why we pride ourselves on being welcoming to all, and service. One of the ways we demonstrate our service to the community is through Service Saturdays, where students and faculty get together and volunteer on local projects. 
9.  Scholarships that make a difference 
We're serious about affordability and one of the ways we live up to that commitment is through our scholarships. All incoming transfer students are eligible for merit scholarships, and the average financial aid award is about $12,300, substantially reducing our already competitive tuition costs. 
10. Prepared for the future 
When all is said and done, college is about YOUR future. From the moment you arrive at Viterbo, we'll work with you to build the foundation for a rewarding career. This means you benefit from a diverse range of experiences, whether that's through internships, placements or research projects, which prepare you for success. Our graduates have a 100% placement rate within six months of education, which proves that a Viterbo education delivers real results. Join us, and let's make this happen.