JayVon and Megan Adams reflect often on how fortunate they are, even in the midst of a pandemic. It's common for that gratitude to become good fortune for someone else, sometimes in a big way. A very big way.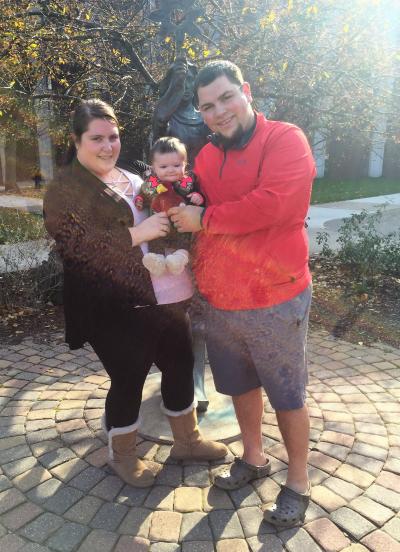 "We've always been all about being grateful for what we have, while at the same time realizing that other people might not have it so good," JayVon said. "We're young college graduates with a daughter and salaried jobs. We're so thankful for where we are."
After graduation, they relocated to Florida, but soon returned to Minnesota in the St. Cloud area, where Megan is a manager at an Olive Garden restaurant and JayVon is a manager at a Target store.
The two grew up together in the tiny town of Isle in northern Minnesota, high school sweethearts who transferred to Viterbo University after a year at a small private college in Minnesota. Isle High School typically has graduating classes with about 30 members, so JayVon and Megan felt Viterbo's size was a good fit for them.
Both graduated from Viterbo in 2017 with bachelor's degrees in business administration, and they left here having formed lasting bonds with the university. They got to know the godparents of their daughter, Gabriella, born in 2018, while they were going to school here, and they think very highly of many faculty and staff members they met at Viterbo.
Megan's advisor, business school faculty member Derek Cortez, was especially helpful, a father figure for her after her own father died tragically in 2014 in a snowmobile crash. "I didn't have anybody, and he filled that void," Megan said. "I don't think you'd get that at another university."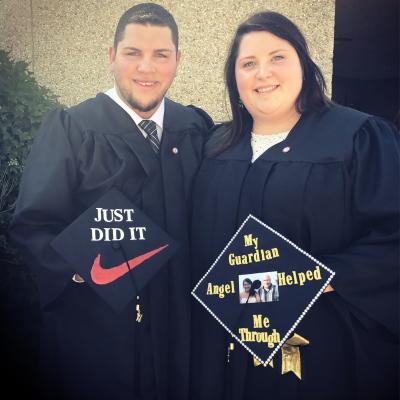 Megan and JayVon still vividly recall getting the call about her dad. They were studying for an exam in Murphy Center when she got the bad news, and it was devastating for JayVon, too. His parents struggled with substance abuse when he was growing up, and Megan's folks made him feel like he was part of the family from the beginning.
Frantic and not knowing how to deal with the combination of school and family issues, they found faculty member Todd Ondell. They recall Ondell being so reassuring, telling them to "just go," that it would all be figured out when they got back.
"I can't thank the business school and the professors enough for how they handled that situation," JayVon said.
The bond is so strong with Viterbo that in mid-October when Megan and JayVon were headed to Wisconsin Dells on an anniversary getaway, they made it a point to stop by Viterbo to check in with their favorite professors.
The trip to the Dells was about more than celebrating their anniversary. At some point during the excursion, they planned to surprise a server with a $600 tip at the end of one of their meals.
JayVon and Megan for years have made it a habit to give two $100 tips per year, above and beyond their customary tip. "It never crosses my mind not to do it. We'll never stop doing it, ever," Megan said. "I was always taught that it is more important to give than to get."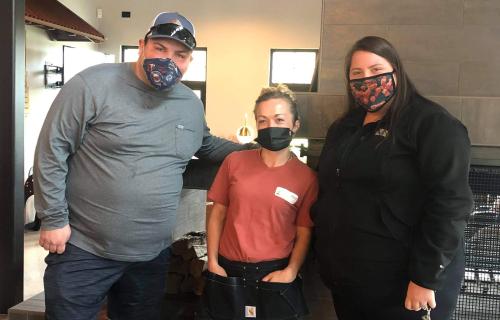 On social media, they learned about the Venmo Tip Challenge. The idea behind the challenge is to use the online crowd-funding platform to get a bunch of people to pitch in to surprise a random server with a tip so big that it could be life-changing.
Megan and JayVon started their fundraising effort by putting in the first $100 and toward the end sweetened the deal by offering to match dollars for additional contributions.
On their anniversary trip, they carried the $600 megatip around with them, waiting for an inspiration or a sign that they had found the person for whom the tip would have maximum impact. It finally felt right when they stopped in at the Tumbled Rock Brewery and Kitchen in Baraboo.
Unbeknownst to Megan and JayVon, their server, Rachel, was in the midst of a string of 12-hour work days, trying to come up with the money needed to get an apartment for herself and her two young daughters. On top of taking care of six or seven tables that day, she also was overseeing an event in an adjacent building, but was still providing cheerful and attentive service.
Rachel was so busy they were hesitant to throw off her schedule by having her pause for the tip presentation, but they were more than glad they did.
"The idea is that it would make a difference in someone's life. That was our hope, that we would give it to someone who really needed it," Megan said. "Right after we did it, we looked at each other, like, 'Let's do this again.'"