Sport and spirituality attracted Adam Dickinson '12 to Viterbo University, and he remains grateful he had the opportunity to be a V-Hawk. Viterbo was Dickinson's springboard to a full and fulfilling life that is still unfolding.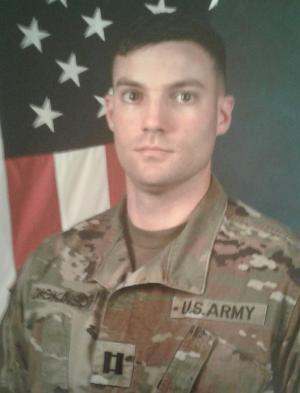 Dickinson grew up in Edgerton, learning the game of golf from his father, Terry, a very successful high school golf coach. After high school, Dickinson knew he wanted to keep playing competitive golf in college, and several colleges were interested in having him on their team.
Dickinson clicked with Viterbo golf coach Jim Socha at their first meeting, but golf wasn't his only consideration. What sealed the deal for Dickinson was the institution's strong grounding in Franciscan values and the Catholic faith.
"Golf has always been a big part of my life, but it was very important to me that Viterbo was a Franciscan Catholic school, too," Dickinson said. "Also, the small school environment was perfect for me. I grew up in a small town, and I think going to Viterbo where it was a smaller student population was perfect for me. You really get to know your classmates and there's more one-on-one time interacting with professors."
For Dickinson, things got off to a great start. Playing a round at Forest Hills Country Club the day before Viterbo team practice, he hit a hole in one.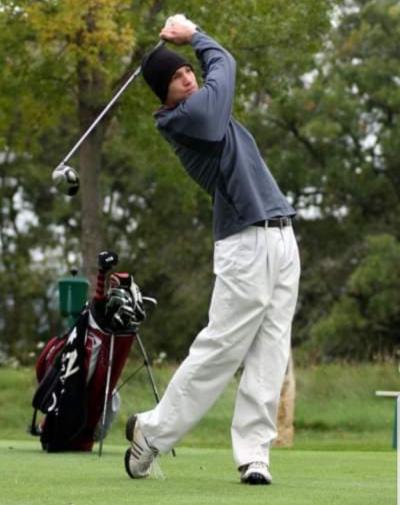 That was just the start.
In his first collegiate competition, Dickinson notched another ace, and before he completed his bachelor's degree in business administration he had added another hole in one, bringing his lifetime total to four.
"Hopefully it's a record that will never be broken at Viterbo," Dickinson said with a laugh. "I'd like to say it was all skill, but there was definitely some luck involved there, too."
Dickinson also considers it good fortune that he heard about the opportunity Viterbo students have to join the ROTC, a program to prepare future military officers. He signed up for ROTC as a sophomore, going to Fort Knox for a monthlong training session to catch up on things he missed out on during his freshman year.
"Military service has been a tradition in our family going back generations. I knew I wanted to serve eventually," Dickinson said.
His Army service started a few months after he graduated in 2012. He's had tours of duty in Gabon, Africa, and South Korea, and his military service has given him the opportunity to see much more of the world, including Belgium, Germany, England, Japan, Malaysia, and Vietnam.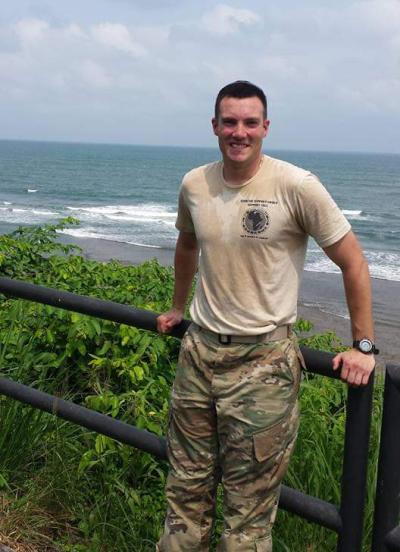 "It's been awesome to have the experiences and opportunities I've had in the Army," Dickinson said. "The most important thing I got from it is seeing different cultures and seeing how other people live compared to us. It really shows how great we have it here in the U.S., the freedoms that we do have, and, in a lot of cases, the wealth we have compared to some other countries. It made me so much more grateful for what we have here."
Dickinson, who has attained the rank of captain, specializes in logistics. This fall, he completed 18 months as commander of an 80-member infantry forward support company in Louisiana and took advantage of an opportunity the Army offers to pursue a graduate degree.
Dickinson expects to complete work in December 2021 on his master's degree in business analytics at the University of St. Thomas in St. Paul, Minn.
Before then, there's a chance he'll get his third promotion, this time to the rank of major. He'll welcome the opportunity, of course, but he'll miss the camaraderie he experienced as a company commander.
"Company command is the job that most officers will say was their favorite job in the military," Dickinson said. "Company command is one of the last positions where you're really on the ground level. When you move up in rank you get further away from the soldiers."
The lessons Dickinson learned at Viterbo, especially those related to servant leadership, have been with him through his military journey, keeping him grounded as a leader. "As an officer, as a commander especially, you're in charge of a lot of people. I was in charge of their lives, really, their well-being on and off duty," Dickinson said. "It was all about being there for them and being someone they can look up to and look to for help in solving problems."