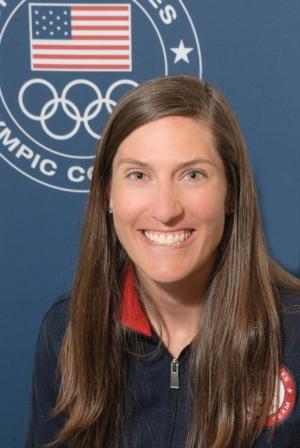 For Nicki (Robinson) Skinner '04, athletics has always been a huge passion, so working since 2005 at the U.S. Olympic and Paralympic Training Center has been a dream job. She's fully immersed in athletics at the highest level.
Growing up in Eau Claire, Skinner was never pushed to participate in sports. It came naturally.
"I was just out there being a kid and having a good time," Skinner said. "My parents were supportive of whatever we were interested in. If anything, I think it was the work ethic that my parents instilled in us that transferred over into athletics more than anything."
A standout all-around athlete in high school, Viterbo recruited Skinner first to play softball but she came to Viterbo to play both softball and volleyball. Her work ethic (or maybe her strong play drive) kicked in when she walked past a basketball practice on her way to an off-season softball workout. Next thing you know, she was playing on the basketball team her sophomore year, too.
Not only did Skinner play softball and volleyball all four years she was at Viterbo, she also played on the basketball team for two seasons. Viterbo has only had 11 three-sport student-athletes, and she's the only one who had a double major (management and marketing).
"Honestly, I don't know why more athletes don't play multiple sports because it helps you avoid having an off-season," she said. "I think it kept me balanced."
Her senior year, Skinner recalled, she was talking with an assistant softball coach who was working on a master's degree in sports administration at the University of Wisconsin-La Crosse.
Light bulb moment.
"I mean, wow, you could mix business and sports," Skinner said. "Who knew that was a thing? It was something pretty new in 2004."
In a hurry to get her schooling behind her, Skinner completed her master's degree in a year. One requirement was completion of an internship. Skinner had already started working with the Eau Claire Express baseball team when she got word that another internship she had applied for had come through at the U.S. Olympic Training Center in Colorado Springs.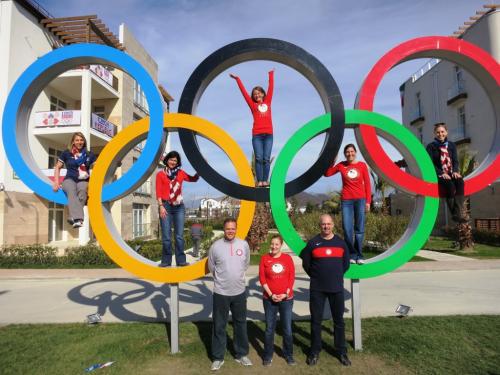 She jumped at the gold-medal opportunity, starting her internship in 2005, and she remains there today as senior director of the U.S. Olympic and Paralympic Training Center. "I'm the intern who never left," she said with a laugh.
The Olympic training center sits on a 35-acre former military base. Skinner described it as being similar to a college campus, with residence halls, dining facilities, and, of course, world-class facilities to train 12,000 to 15,000 athletes per year in sports of all sorts.
For almost 15 years, Skinner was involved in the operations and transportation departments, first as manager and then as associate director. In April 2020, she took on the more global role of senior director. "It's been all COVID, all the time," Skinner said.
Things are looking up, though, with the training center slated to fully open Nov. 1, and Skinner is looking forward to getting involved in more higher level strategic planning.
Skinner's husband, Kelly, is vice president for high performance at the United States Olympic and Paralympic Committee, also a high-level strategic planning position. They met at the training center in 2009 when Skinner showed up to play in a Sunday evening basketball league he had organized.
Skinner also is looking forward to attending her sixth Olympic games, returning next February to Beijing, China, where she attended her first Olympics in 2008. She's also been to games in Vancouver, Canada (2010); Sochi, Russia (2014); Rio de Janeiro, Brazil (2016); Pyongyang, South Korea (2018); and the summer games held in Tokyo this year after being postponed last year because of the pandemic.
Tokyo was very different because of the COVID restrictions. Normally, Skinner would have a chance to attend events, but she spent the whole time in the Olympic village attending to her duties. Even the athletes didn't get a chance to watch other events or explore the host city because they had to leave within 48 hours of the conclusion of their event. Still, Skinner was impressed with the Tokyo games.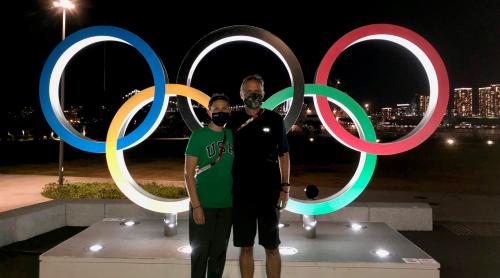 "At the end of the day, I don't know that there could have been another country that could have pulled off a games like that," Skinner said. "Japan has such a welcoming culture, and the whole thing was so well organized."
Skinner missed the London games in 2012, but she had a good reason: maternity leave. The Skinners have a son, Hudson, who is 9 years old, as well as a 20-year-old daughter, Jamie, from Kelly's previous marriage.
The summer games come to Los Angeles in 2028, and Skinner already needs to be planning ahead for how the training center can help a larger than normal cohort of athletes prepare. As the host country, the U.S. automatically qualifies to have a team in every sport.
As you might guess, Skinner is strongly committed to the Olympic movement and will be ready for that challenge. "We have a saying in the movement," Skinner said. "'It's not every four years, it's every day.'"