There was never any doubt for Jorge L. Espat '84 when he was growing up in Belize that he would go to college. Even in a family with 10 children (all but one boys), his parents viewed investing in education as far preferable to accumulating wealth.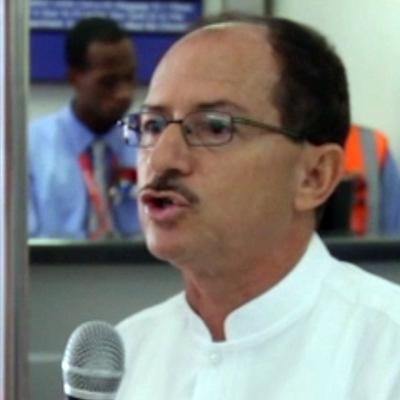 "Education was the razor-focus of my father; it was non-negotiable," Espat said in an email interview from his home in Belize City. "Excellence, not good, was the metric our parents deployed. We were taught the importance of academic excellence. … We were all hungry for new knowledge and thus relentlessly sought new journeys."
Espat's journey to Viterbo University started in Belize at St. John's Junior College, where he graduated as valedictorian in 1980 with an associate degree in business administration. The college hosted an academic fair at which Espat met Ray Duvall, Viterbo's admissions director.
Viterbo's connection with the Franciscan Sisters of Perpetual Adoration was a big part of the attraction for Espat, along with "myriad opportunities for personal growth and discovery," and the relatively young but "rigorous" business program.
Espat and his siblings all got an extensive business education growing up, as the family had established and owned one of the larger retail and wholesale businesses in Belize City. "The (Espat) children were required to work in the business and in the process learned the ropes while fulfilling varied roles as sales clerks, cashiers, warehouse attendants, dispatchers of goods," Espat said. "Mom's exhortation is indelible: 'Work never killed anyone.'"
In addition to Espat's excellence in the academic realm, he brought with him soccer skills that provided a big boost to Viterbo's fledgling program. Espat served as co-captain of the team, then known as the 76ers instead of the V-Hawks, and won All-Conference and All-American honors.
Espat was inducted into Viterbo's Wall of Fame in 1992 as a charter member, and his description on the Wall of Fame website gives an indication of his dominance: "Acknowledged as one of the finest players of his time in the small college athletic association, his blinding, dribbling skills and ferocious shots excited fans and terrified opposing goalkeepers."
Based on his Viterbo exploits, Espat had offers to play semi-pro soccer in America, he said, "but returning to Belize was my priority and joy." Belize did not have a professional soccer team, but he did play for the national team and coached at the college level.
Since 2014, Espat has been chief executive officer at Belize's Philip Goldson International Airport. Given his Viterbo bachelor's degree in business administration and experience working in the family business, it might seem surprising that Espat wasn't involved in business management before becoming CEO. But then, there was always an emphasis in Espat's family on public service, and that was the path Espat decided to take.
"We simply were expected to contribute to the advancement of our communities," Espat said. "After Viterbo, I absolutely wanted to return to the classroom as a teacher to excite and inspire the young, talented scholars enrolled at St. John's College."
Espat taught development economics, international relations, and business management for a few years after graduating from Viterbo, but then was called to public service in another realm: government.
He organized the country's first development summit, played a key role in the formulation of Belize's 1990-94 National Development Plan, worked on numerous national legislative initiatives, and served as advisor to the country's minister of foreign affairs.
In 1993, less than a decade after graduating from Viterbo, Espat won election to the Belize House of Representatives and was appointed minister of state in the prime minister's office. In his second full five-year term in the House, which started in 1998, he was appointed minister of national security and immigration.
For five years starting in 1996, Espat served as the national chairman of the People's United Party, this after helping to author PUP manifestoes in 1989 and 1983. Espat became frustrated with his party, however, and decided not to run for a third term in 2003.
While he was serving his first term in the House, Espat also worked for two years as vice principal at a high school, and after he completed his second term in the House he returned to the education arena. From 2004-11, he taught economics at St. John's Junior College before taking on the role of president of St. John's College for three years.
Espat is 100 percent on board with Viterbo's emphasis on faithful service and ethical leadership, and vividly recalls lessons in philosophy and religion learned at Viterbo from Arita Dopkins, FSPA, and history classes taught by James Lawrence.
"Leadership in public life is for enlightened management of public affairs and never for personal gain," Espat said. More than 35 years after graduating, Espat has fond memories of Viterbo.
"I shall always remember the kindness and tenacious determination of so many folks who shaped and influenced our journey at Viterbo," said Espat, whose personal mission is to help shape a more humane community. "May St. Francis help us make sense of our world by promoting cooperation instead of division, justice instead of hate, compassion instead of greed, and peace instead of war."
---
Help keep Viterbo's global connections strong with a gift designated for international students.