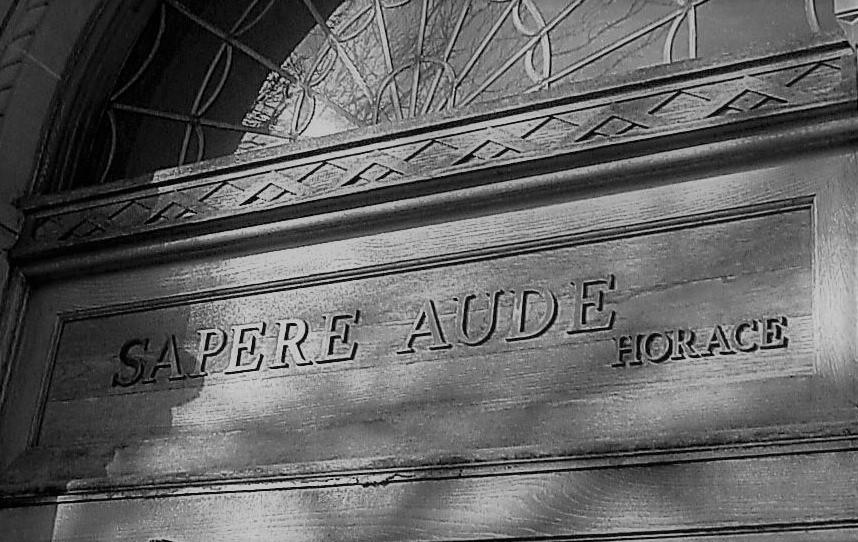 Due to the ongoing health emergency, the library is open only to the Viterbo community (students, employees, faculty, adjunct faculty, alumni, emeriti, and FSPA).
IDs ARE REQUIRED TO ENTER THE LIBRARY AT ALL TIMES. Student IDs will only allow access until the normal closing time of the building. Faculty/staff have 24/7 access.
Viterbo University IDs are available to the above-named groups at the Physical Plant at 727 Winnebago St., La Crosse, 608-796-3920.
The general public may contact the library for assistance by calling 608-796-3269 or e-mailing library2@viterbo.edu.
---
Please watch this short video and follow these guidelines for your safety and the safety of the library staff:
Do Not Enter The Library If You Are Ill.

Wear A Face Mask And Maintain Social Distancing at all times.

Use Hand Sanitizer or Wash Your Hands Frequently. Hand sanitizer is supplied at the entrance to and throughout the library.

No Food Allowed until further notice. Covered beverages are allowed.

Furniture Cannot Be Moved.
Thank you for your cooperation!
---
Please see the Hours page for current hours, which are subject to change based upon University guidelines.
In-house seating and use of computer labs and study rooms is subject to social distancing restrictions. Study tables and carrels are available with limited seating.  Study rooms must be reserved in advance for small groups, with masks and social distancing required.
Main Desk - In-library services include check out of materials and equipment, adding funds to print accounts, and interlibrary loan of materials from other libraries. Students and faculty may request scans of articles and chapters from Viterbo Library's physical collection (journals and books) which will be e-mailed to you. Articles and book chapters can be requested by filling out the Interlibrary Loan or Place Hold request forms, or by e-mailing library2@viterbo.edu. Please see the Library FAQ section of the Using Viterbo's Library guide for more information, or contact us for help.
Reserving Study Rooms - To reserve a study room either: 1) Speak to the student at the Library Student Help Desk to the left of the main entrance to the library, or 2) Contact the Main Desk by e-mailing library2@viterbo.edu or calling 608-796-3269 and library staff will make a room reservation for you. You will need to give your student ID number, the date needed, the time requested, and how many people will be in the room. If you have any special equipment needs, please mention them at the time you make your reservation. ALL STUDY ROOMS NEED TO BE RESERVED. They are not open for general occupancy. You may reserve a room for up to three hours per day, and you may make reservations up to 30 days in advance. Monday through Thursday first floor rooms will be closed from 3:00-3:30 PM for deep cleaning, and second floor rooms from 3:30-4:00 PM. Study room capacity is diminished, masks must be worn (even if you are alone in the room or with another member of your household, as these are shared study spaces which will be occupied by others after you leave), and social distancing must be observed at all times. Furniture may not be rearranged, and food is not allowed.  Covered beverages are allowed.
Study Spaces - Some spaces are available on a walk-in basis, and others require a reservation.  The Robers Silent Study Room is unavailable until further notice.  Since more students may be using the library to attend online classes,  there will not be designated quiet, whispering only-areas in the library for the duration.  To minimize sound, please use headphones if you are attending an online class and not in a study room.  Headphones with disposable covers are available for check out at the Main Desk. View a map to find a space.
Reserves - Instructors: Materials may be set aside on the library's reserves shelf for student use. We are accepting books and articles that can be photocopied by library staff, as students will not be allowed to handle these materials. We encourage using the library's Academic Video Online streaming database for video options. If needed, you may use the streaming media request form to have a DVD or VHS digitized.
Research assistance is available through chat from the library home page or by e-mailing reference@viterbo.edu. Research hours are 9:00 AM to 12:00 AM Monday through Thursday, 10:00 AM to 3:00 PM on Fridays, 12:00 PM to 5:00 PM on Saturdays, and 4:00 PM to 12:00 AM on Sundays during the semester. Hours will vary during breaks. You may also set up a virtual research consultation.
Faculty wishing to have a library instruction session for their class should contact Jodi Hilleshiem, Instruction & Electronic Resources Librarian, at jchilleshiem@viterbo.edu. Jodi is available to provide instruction sessions through a Teams or Zoom meeting for your entire class, or through pre-recorded tutorials in Moodle. And, of course, she is available to answer student questions through e-mail and chat.
The Archives is accepting in-library appointments for one person at a time, with social distancing from staff. Virtual services include access to online Digital Collections and Teams/Zoom appointments. Please contact Jason Skoog, Archives and Systems Librarian, at jaskoog@viterbo.edu for more information and with questions.
Please contact us with any additional questions you may have. For information on how to use the library remotely, please visit our Accessing the Library from Home guide.