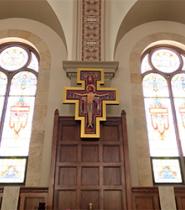 Peace and all Good!
The month of November is almost here and it is welcomed gently and lovingly because it is the month we take time to remember our beloved deceased. Even though they are in our hearts each day of the year--November is the month of their blessed memory.
Some say that there is a sense in which Christian life is supposed to be a rehearsal for death, yet not in a morbid sense--but in  a gradual surrendering of oneself to God, made possible in Jesus and for his followers. If Christians choose burial or cremation, both must enhance the dignity of this graceful surrendering.
Two reflections:
The beautiful pine casket which held the Servant of God, Dorothy Day was strikingly appropriate because it displayed the simplicity, grace, discernment, and dignity of her life of charity. Her body was the sign, not the casket that communicated a craft and showed a care befitting its servant role.
A lovely prayer for one's commendation of cremains reads: "In Genesis, the very dust is good in God's eyes. From it we come, to it we return and so we leave here to the earth these ashes, but we carry within us the memory of our beloved and the praise of our God who is manifest and blessed."
Celebrate with us this "dignified surrendering " of all those whose names which will be placed on this "Altar of Remembrance" amid songs, candles, and words from Revelation: "Be faithful unto death, and I will give you the crown of life."

Fr. Conrad Targonski, O.F.M
Viterbo University Chaplain