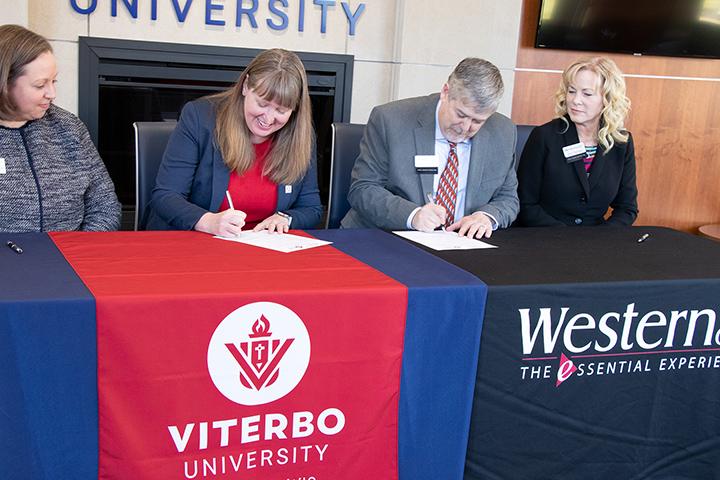 For the first time this year, students can enroll simultaneously in Viterbo University and Western Technical College, thanks to a recently signed co-admission agreement.
The initiative aims to get more students on the pathway to a four-year degree, making that path as smooth as possible. The co-admission agreement allows students to start college at Western with the aim of completing work on a bachelor's degree at Viterbo after completing a two-year Western program.
Western already has been the largest single source of students transferring to Viterbo, and the co-admission agreement builds on that.
"We are very excited to further our outstanding relationship with Western Technical College and create more opportunities for students," said Viterbo University President Glena Temple. "The co-admission model will provide a scholarship, credit transfer assurance, and access to resources at Viterbo while participating students are still at Western. We have 48 articulation agreements already, but this co-admission model simplifies the transfer process for students and makes the transition seamless."
Western President Roger Stanford concurred: "Western and Viterbo continue to expand our outstanding partnerships, which is a win-win for us and our students. Students are getting on the right path quickly, providing a guaranteed pathway for students, which builds community, eases the transition, and focuses on the student experience."
Starting the pathway to a bachelor's degree at Western offers an advantage, particularly for students who don't have a family history of college education. Getting a two-year degree before coming to Viterbo is a "completion," Stanford explained, an affirmation that students can succeed.
"Not everybody is ready for a university right out of high school," Stanford said. "But we can get them ready."
Technical college training in conjunction with a bachelor's degree could be a big advantage in some fields when it comes to landing a job after graduation, Stanford added.
It used to be a liberal arts degree of any kind would be a ticket into a good job that might require some on-the-job training. Increasingly, Stanford said, employers look at what prospective workers bring to the table on day one, and technical college training can provide valuable skills in many fields that will give students an edge in the employment pool.
"That's a really big shift, and it's made technical colleges critical," Stanford said. "A lot of people see this co-admission agreement as a very smart move. And I love Viterbo because I know it's the best answer for our students."
While students who opt for co-admission will take classes at Western to start, they'll also have the opportunity to take advantage of numerous connections to the Viterbo campus. These opportunities include access to Viterbo's library, study commons areas, fitness facilities at the Amie L. Mathy Center for Recreation and Education, the Student Success Center (including tutoring), athletics events, and events at the D.B. Reinhart Institute for Ethics in Leadership and the Dahl School of Business. They also can join Viterbo student organizations and get ticket discounts for events at the Fine Arts Center.
At Western, co-admission students are highly likely to stay on course for a smooth transition to Viterbo because they will get guidance from a Viterbo transfer specialist with an office on the Western campus. The goal is for Western students to transfer after two years as "true juniors," meaning they can complete their bachelor's degrees in two additional years at Viterbo.
"Part of the transfer specialist's job at Western—and this is our job as an institution, too—is to create more pathways, new pathways to success," Stanford said. "Our society needs skilled workers and leaders, and every layer of education adds an element of social mobility. It makes a huge difference."