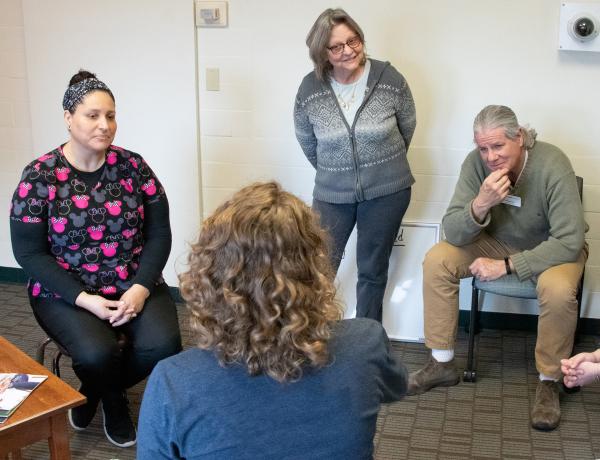 Six months after Viterbo University was awarded a $741,201 grant to help fight the opioid abuse crisis, Deb Murray still feels a bit of awe when she thinks about it, thrilled at the thought of how much good can come out of it.
"I'm still like, 'Really? We got it?'" said Murray, director of Viterbo's Master of Science in Mental Health Counseling program.
Then again, given the university's history of being a leader in helping people with substance abuse problems, maybe it shouldn't be so surprising that Viterbo landed the three-year grant, one of only 48 awarded nationwide by the U.S. Department of Health and Human Services Health Resources and Services Administration Opioid Workforce Expansion Program.
Thanks to the university's Franciscan commitment to serving the underserved, Viterbo was the first college in the state to offer training in substance abuse counseling. And thanks to a lucky break when she was working on her doctoral degree, Murray became Wisconsin's first certified trainer in motivational interviewing, a breakthrough counseling method that has proven effective in helping people struggling with drug and alcohol abuse.
The university got the good news last August about the grant, which helps fund Viterbo's VOICE Program, which is short for Vital Opioid Instruction through Community-based Experiential Training. The VOICE Program has two main components:
Sixty percent of the grant is for getting well-trained professional counselors into the field to help people break free of opioid drug abuse, particularly in underserved rural areas.

Forty percent is for working with regional stakeholders to provide community education, activities and strategies for drug abuse prevention and provision of treatment and recovery services.
In each of the three years covered by the grant, up to 15 graduate-level Viterbo mental health counseling students per year will receive $10,000 stipends as they serve part-time unpaid internships at clinics and hospitals that work with clients in rural and underserved areas of the Coulee Region. The stipends help cover the extra time and travel expense involved in serving internships far from campus.
"The rural communities that got to have these students as interns, you have no idea how excited they were," said Murray, adding that the stipend is far from the biggest motivator for students in the program. "The people who are in this program aren't doing this for the money. They are doing this because it's a calling. They're doing it because they have to do this."
The goal is that after graduation the Viterbo students will work in rural areas, many of which have a high need for substance abuse counselors. Murray said there's a high likelihood that many will, considering that Viterbo's student population has a high percentage of students with rural roots.
Students who come out of Viterbo's graduate-level counseling program will have the knowledge and skills to deal with the most difficult substance abuse cases, but Murray said they also will have something more important. They will be able to see the clients as people they are helping to help themselves, not as subjects on whom they are trying to perform miracles.
"These counselors have to hold this mirror up and show them this is who you can be if you take the substances away and then ask them, 'Are you willing to give up what you need to give up to become that person?'" Murray said. "We have to be ready to walk through our clients' hell with them. And if we've really got our game on, we have to teach them how to be their own counselors."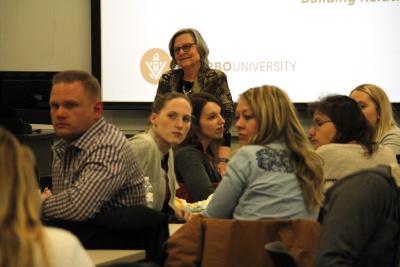 The community education aspect of the VOICE initiative is ramping up, with two major events in mid-March on the Viterbo campus.
On Thursday, March 12, Viterbo will host the first Viterbo VOICE Town Hall, an advocacy event related to policy issues focused on opioid and substance use prevention, treatment, and recovery services. As part of the grant, the VOICE program will have two such town hall events per year.
The town hall will focus on Wisconsin's policy of terminating Medicaid benefits for jail inmates. Wisconsin is one of only 16 states that terminate Medicaid benefits for inmates rather than suspending them.
In states like Wisconsin that terminate the benefits, inmates have to reapply for benefits when they are released, which means they have to wait roughly a month before they have coverage. According to the National Sheriffs' Association, roughly half of the 10 million people locked up every year have substance abuse issues. If the inmates with substance abuse issues have a delay in coverage, Murray said, they won't get help that could keep them from bouncing back into jail.
On Friday, March 13, the university will host the Viterbo VOICE Opioid Recovery Summit, a daylong educational event in partnership with La Crosse's Alliance to HEAL (Halting the Effects of Addiction Locally). Topics on the agenda include new approaches to pain management and identification of risky users, coordinated community response to the opioid crisis, integrated behavioral health, trauma-informed care, and more.
Murray noted that the summit takes place during the university's spring break, so there will be ample parking for what she hopes will be a large crowd.
The VOICE initiative also calls for at least two "community conversation" events per year, and a pilot event is planned on campus for Saturday, Feb. 22, with people representing clinics and other facilities that could offer potential new internships invited to take part.
A preventive outreach program that aims to help parents, school staff, and other concerned community members recognize early signs of mental illness in their children also is part of the VOICE program. The Youth Mental Health First Aid training program will be offered to residents outside of La Crosse County, where Better Together already offers the training.
Youth Mental Health First Aid training, which is offered free of charge except for the $25 cost of the required book, aims not to train parents and teachers how to be counselors but how to spot the early signs of mental illness in youths. Early detection, said Murray, is vital.
"The earlier we get to them, the fewer negative experiences occur," Murray said. "Early detection could mean the child manages to graduate, maybe stays out of jail, maybe doesn't have an unwanted pregnancy—all of these things that can derail a life."
Murray is optimistic that the VOICE initiative can make a difference in helping get the opioid abuse epidemic under control and help people step back from the brink of the abyss.
"It's kind of an exciting thing," Murray said. "We're trying to leverage all of our resources for a better community and quality of life."