Jane Eddy is a transplant from the Washington, D.C. area where she grew up. She graduated from the University of North Carolina-Greensboro and then moved to La Crosse with the intention of remaining a couple of years. That did not happen.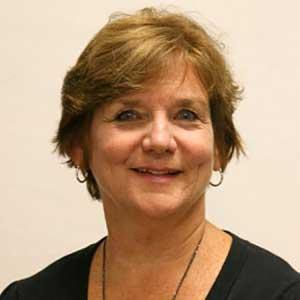 She received a master's degree from the University of Wisconsin-La Crosse and landed her first job at Viterbo as an academic, personal, and career counselor. About two years in this position, she was asked to write the first of many Student Support Services federal grants and to direct that program. Her position evolved and grew over the years to what it is today.
She has been fortunate to bring to the university $7.5 million in grant money. Her greatest honor in life is her family, which includes five grown children and nine grandchildren.
How many years have you worked at Viterbo?
I've been here 35 years.
Areas of expertise?
I don't know about expertise as much as passion. I wear several hats. I direct the Academic Resource Center and in that capacity I serve as director of the Student Support Services/TRIO program, which supports first generation college students. I work with students who have a diagnosed disability and make certain we have in place accommodations that will foster their academic success. I am an academic advisor to students, and I coordinate the tutoring program and the ESL program. I spend most days working directly with students. The ARC serves about 90% of enrolled students so it as a place brimming with student energy and activity.
What do you love most about working at Viterbo?
The students. I love the interaction with students and supporting them in their academic journeys and personal growth. They bring me more energy and joy than I would ever be able to give back. I appreciate the opportunity to know so many of the students' families and partnering with those parents in support of their students as they define their path to success.
I work with an incredible group of professionals in the ARC who are dedicated and juggle multiple roles/responsibilities so well. They are selfless in their giving.
The Viterbo campus is full of professionals who are boundless in their commitment to our students. I am privileged to work in such an environment. I love being part of Viterbo—maybe you realized this by my choice to remain here for so very many years.
What inspires you?
My family is my biggest inspiration but our students are right there as well. I am in awe of the graciousness and genuine appreciation shown by our students. Partnering with students as they realize their strengths and own their future are moments filled with excitement for the student and incredible satisfaction for me being allowed to be part of their journeys. To witness the growth of students as they realize their potential and define their personal goals are "wow" moments for me.
What others say about you?
This is uncomfortable for me answer. I hope they say I am caring and kind.