Emilio Alvarez is the director of Campus Ministry, helping to oversee the opportunities students have to grow in their faith, personal, and academic journeys. Alvarez also is a collaborative member of the Mission and Ministry Leadership Team at Viterbo University.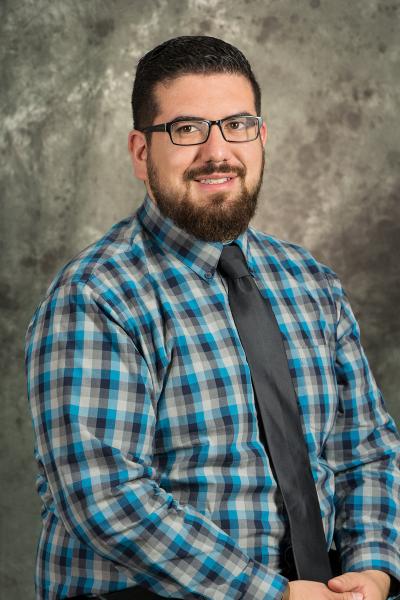 The goals of Campus Ministry include providing students the opportunity to live and incorporate the mission and values of Viterbo University in their own lives, specifically through the Catholic Franciscan lens. Campus Ministry's goals are to develop leaders, provide opportunities to share one's faith, educate for justice, facilitate spiritual and personal growth, build fraternitas, and create a community in a welcoming and hospitable space.
Campus Ministry offers many programs and activities for students to participate in. They include Agape Latte, service immersion experiences, retreats, Bible studies, social activities, and more. At the foundation of Campus Ministry's work is its dedication to providing students the opportunity to dive more deeply into their faith journeys. Campus Ministry offers regular opportunities for the Catholic Sacraments and has many worship and prayer opportunities.
Not Catholic? No problem! Campus Ministry has connections to local faith communities that connect students with their faith tradition, but all are welcome in Campus Ministry.
How many years have you worked at Viterbo? 
I have been a member of this Viterbo community since July 2012, when I began my role in Campus Ministry.
Areas of expertise?
I would not call myself an expert in anything. There are several areas I have become very passionate about and are at the center of my life. I have a passion for ministry and service and have been involved in Campus Ministry activities since high school. In college, I took a more focused approach in being well prepared to serve in a Campus Ministry role at either a parish, high school, or university. I received my BA in religious studies and philosophy, with a minor in Catholic studies.
While in college, I also worked at Camp Gray (Catholic summer camp) outside of the Wisconsin Dells. This opportunity provided me with a wealth of experience. I was a camp counselor for kids from second grade to high school. I also led week-long camping and canoeing trips for our high school students to northern Wisconsin and Michigan's Upper Peninsula. After graduating college in 2011, I volunteered there for a year as a Servant Leadership Team member, leading year-round leadership, sustainability, and confirmation retreats for students of all ages.
During my time at Viterbo, I also have had two other loves, the Franciscan tradition and servant leadership. In 2017, I graduated with my master's degree in servant leadership from Viterbo. My fate in coming to Viterbo in 2012 led me on a path to diving deeply into the Franciscan way of life. I eventually started the process to become a Third Order Secular Franciscan (OFS), and in September 2019, I professed as a Secular Franciscan.
One would say my areas of "expertise" or passions are campus ministry, servant leadership, and Franciscanism.
What do you love most about working at Viterbo? 
There are a lot of things that I love about working at Viterbo. The mission, values, and the Franciscan tradition are what draws me in regularly. Viterbo's core values of contemplation, hospitality, integrity, stewardship, and service are ingrained in the way Viterbo seeks to move forward in the world. At the top of the list is the joy I receive from walking with students on their journeys. There's no greater joy than watching a student fall more deeply in love with their faith and having it motivate them to change the world. Seeing the personal growth in students is inspiring to me on so many levels. I'm glad Viterbo provides these opportunities to exist.
What inspires you? 
People inspire me. I hear the stories of the Franciscan Sisters of Perpetual Adoration and how they were committed to the common good, and I seek to replicate that same response in my own life. I see students giving up the comforts they have, the time during breaks and weekends, to go and serve our community. I see employees that will go the extra mile, not out of obligation, but because they care so deeply for students and colleagues. Our community members will go to extraordinary lengths to provide for members of our community and society, frequently without the need for recognition or accolades, just because it's the right thing to do for another human being. These are the pillars of faith in our community that lead lives of authentic servant leadership that inspire me to "be more" daily.
What others say about you?
I don't have any direct quotes to share, but I believe individuals would say that I am a kind and welcoming person. People would find me constantly trying to provide or feed them. Hospitality is key to my life. I think people will find that I am willing to drop anything to be available for them if they need me. Many students have also noticed that I can have very intense passions about certain things. Whether it's researching the best cup of coffee or diving into a deep and impactful conversation, my whole heart will be in it.