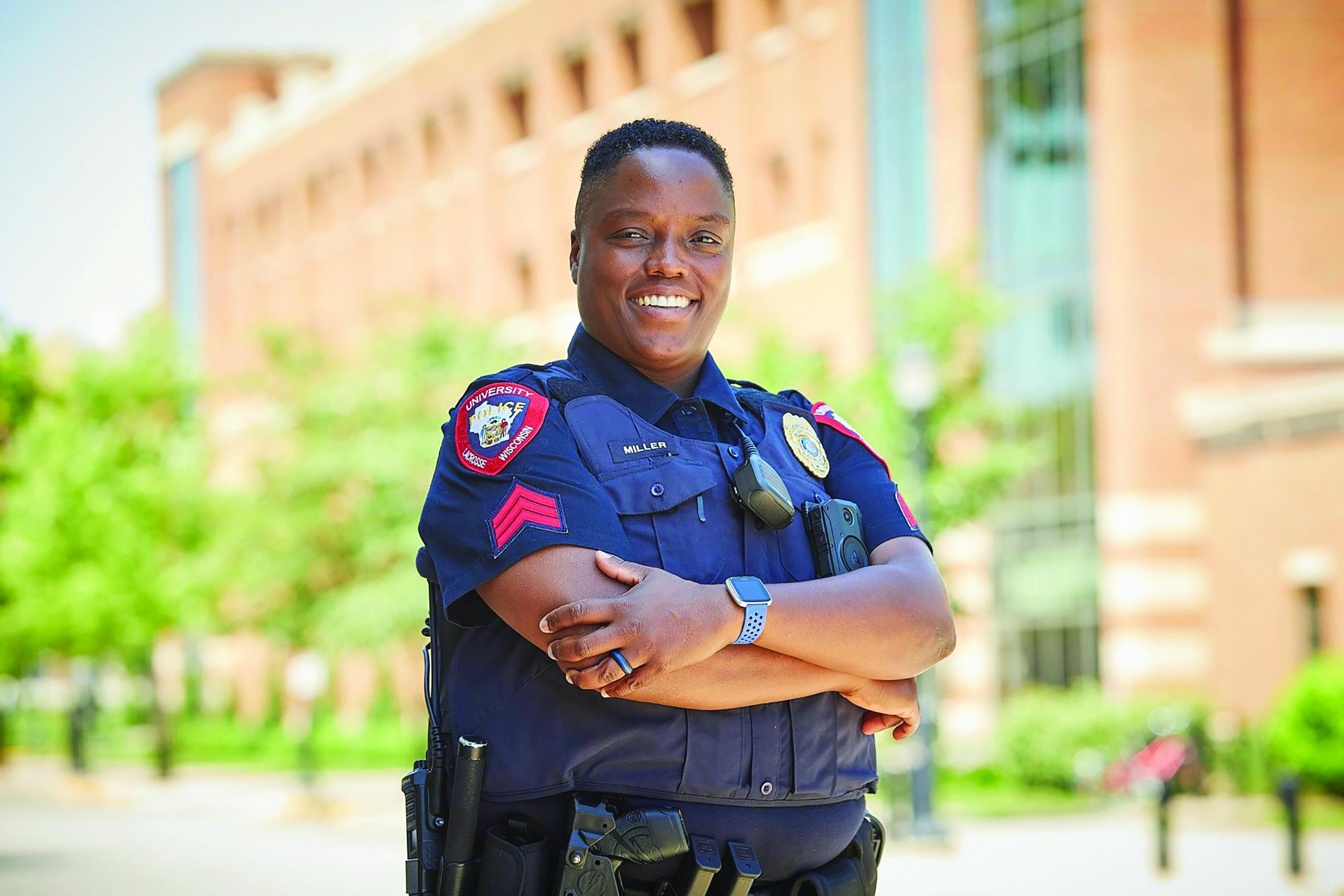 Nikki Miller is a proud 22-year veteran of law enforcement. After graduating from Viterbo in 1998, Miller began working at the La Crosse County Juvenile Detention Facility. She later transferred to the La Crosse County Sheriff's Office in 2001 and began working as a jailer.
Miller's interest in law enforcement grew and she attended the Western Technical College Law Enforcement Academy and was hired by the University of Wisconsin-La Crosse Police Department in 2007 as a patrol officer. In 2011, she went to work for the Onalaska Police Department, and in 2015 she became a criminal justice instructor at Western Technical College. In order to keep her law enforcement certification, she has worked as a part-time officer for the UW-La Crosse Police Department. When a recent vacancy occurred, Miller applied for and landed a sergeant position in the organization. She is currently working on her master's degree in criminal justice administration.
One of the most rewarding aspects of her job is being able to assist people in their time of need.
"I also teach at Western Technical College and I love preparing students to enter the field of law enforcement," Miller said. "I really enjoy watching the students I've trained over the last 11 years excel."
The most challenging aspect of law enforcement is the scrutiny officers are dealing with based upon poor decisions being made by some officers.
"It's not fair to judge all law enforcement officers based on bad decisions made by a few," she said. "I am a master instructor trainer in defensive tactics and I take use of force seriously, because I'm considered a content expert. I think it's important for law enforcement to be transparent about our use of force policies and how they are applied in order to educate the general public so they understand why officers do what we do. COVID-19 has posed a lot of challenges. The personal protective equipment (masks), gloves, and hand sanitizer is a must. The major concern is if an officer becomes infected, the potential for spread within the police department could potentially cause low staffing and increased working hours."
Criminal justice was not a major at Viterbo University when Miller attended, so she chose the route of a bachelor's degree in psychology with an emphasis in counseling. At the time, she never thought mental health would be such a big issue in law enforcement. She credits her bachelor's degree as an integral aspect of her job dealing with people. "I loved the faculty in the psychology department, Deb Murray, Pam ­Maycut, and ­Richard Morehouse, and I also loved how involved the Sisters were in athletics. I played basketball and dislocated my shoulder in my junior year. One of the Sisters gave me healing beads to assist with my pain. I loved the feeling of family and belonging when I was a student at Viterbo. The team mentality relates well to how we work in law enforcement together."
In her spare time, Miller enjoys spending time with her family. She met and married her best friend, Lisa Gerbig, when they were patrol officers at the Onalaska Police Department. She has two children, daughter Lila, 12, and son Victor, 10. They enjoy camping, taking vacations, and golfing. Miller's future plans are to earn a master's degree by 2022 and continue to progress professionally in law enforcement. She would enjoy the challenge and opportunity to be a chief of police someday.