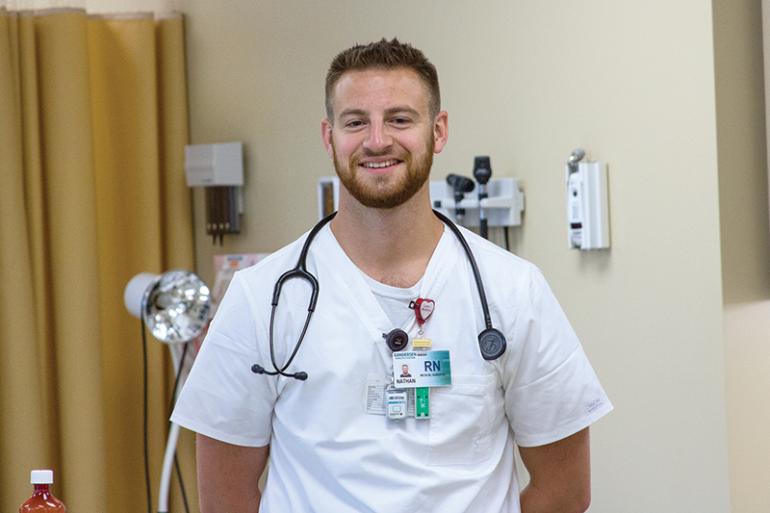 When Nathan Fleming was a sophomore in high school, he was hospitalized with a nasty bone infection in his finger. He received excellent care from the staff at the University of Wisconsin Children's Hospital and went on to make a full recovery.
"After that, I knew nursing was the profession for me," Fleming said. "I wanted to give back, plus there are great job opportunities in the field."
Fleming is a nurse in the cardiopulmonary unit at Gundersen Health System in La Crosse. A native of Darlington, Fleming is one of the many Viterbo students who stay in the La Crosse area after graduation. According the most recent available data from the Class of 2016, of the 410 graduates to respond, 72 percent remained in Wisconsin and 43 percent stayed in La Crosse. An additional seven percent work in the surrounding area. "I love the area—the river, the bluffs, plus La Crosse offers great employment opportunities in the healthcare field," Fleming said.
Fleming was familiar with Viterbo because his aunt graduated from the college in 1977. He researched the university and was impressed with the excellent reputation of the School of Nursing. He also wanted small class sizes.
"I thought my Viterbo education was excellent and it prepared me very well for my career," he said. "Every professor, both in my major and outside of it, cared about the education I received. And I especially liked the core nursing classes, the numerous and varied nursing clinical experiences, and the ethics and humanistic world view included in the curriculum."
Fleming's nursing career is off to a great start. He finds the work both rewarding and challenging. Eventually he said he might want to work in the ICU, be a flight nurse, or become a nurse anesthetist. "The sky is the limit," he said.