Carter Semb '18, '20 learned a lot about being a teacher at Viterbo University, first getting his undergraduate degree and then this summer completing work on his master's degree in education. Even with all he's learned, he gained some unexpected lessons about teaching this year, thanks to COVID-19.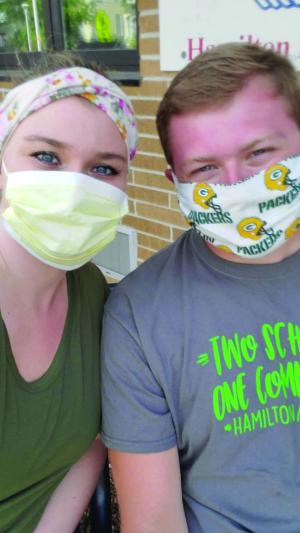 "Nobody was prepared for that," Semb said. "That's not a knock on anybody. There's no book on teaching at home in the middle of a pandemic. I could probably write a book on it now, though, and make it a best seller."
Semb had multiple job offers when he graduated, but he chose to start his career as a third-grade teacher at Hamilton Elementary, just blocks from Viterbo. Semb student taught at Hamilton and ran the Boys & Girls Club program there. It felt like home.
A year-round school, Hamilton has La Crosse's most economically challenged and racially diverse student body, a far cry from the small town homogeneity Semb grew up with in Whitehall. Between his Viterbo education and his work at Hamilton, Semb said he has gained an understanding of his privileged place in society as an educated straight white male.
"It's not something I was necessarily aware of when I started college," Semb said.
While La Crosse third graders will have tablet computers in the 2020–21 school year to facilitate online instruction, they didn't have any district-issued devices when the pandemic started, so Semb had to be extra creative to continue teaching his pupils in the last part of the spring semester.
"So many things are out of our control. We just have to roll with the punches," said Semb.
And as hard as it was to adapt academically to the new situation, the hardest part for Semb was not being able to be with his students during a stressful time when they need the calming presence a teacher can provide.
Semb and his fellow teachers found a creative way to let the students know how much they were missed.
In early April, a fellow teacher asked Semb to rewrite a 2013 hit song by Phillip Phillips called Gone, Gone, Gone. An avid singer, Semb had never written lyrics before, but Semb and three other teachers—including music teacher Karla Wakeen '85—recorded his rewrite as a message to their students.
They then recorded footage of teachers, most lip synching the song, and the Hamilton art teacher edited the footage to create a music video.
"The main thing is we wanted to let the students know that we still remember them and miss them," Semb said.
The chance to sing was part of the attraction of Viterbo for Semb. On his first visit to ­campus, he met Nancy Allen '84, a longtime music faculty member. "She was the first person who hooked me on coming," he said.
Semb performed in the Platinum Edition show choir, and even after graduation, he answered Allen's call to be part of a 50th anniversary salute to the music of 1969.
"If Nancy asks me to do something, I can't say no to her," Semb said with a laugh.