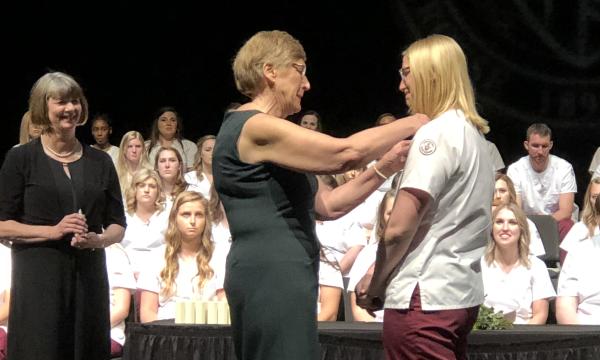 Greta Mousel '19 knew from an early age that she wanted to follow in her mother's footsteps and become a nurse. Little did she know as a girl how closely those footsteps would match, down to her medical specialty and college of choice.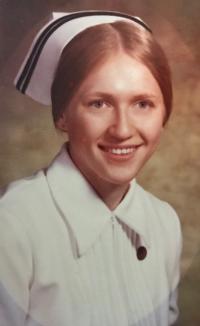 Vickie (Bjork) Mousel '78 recalled that her daughter was always intrigued by anything medical or hospital related. Greta loved going to the doctor, even if she knew she was going to get a shot, Vickie said. She was always thrilled to visit the obstetrics clinic where her mother worked.
But the biggest clue that Greta might have a nursing career ahead of her came when Greta went to the nursing home to visit her paternal grandfather, Lawrence, known to his friends as Duke. That's where her caring nature became clear.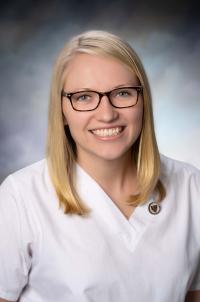 Greta's siblings and cousins would stand timidly against the wall during nursing home visits. Not Greta.
"My mother recalls me saying, 'Here, Grandpa, I'll feed you.' And I jumped up on his bed with him. I loved being with him," Greta said, and that's when her mother knew Greta would be a nurse.
When it came time for Greta to go to college, she said, it was an easy decision. "Of course I'll go to Viterbo and pursue an excellent nursing education, just like my mom did," Greta said, adding that her mother was more excited than she was on the day they toured the campus.
If Vickie was thrilled with the campus tour, she was over the moon when she got a chance to get on the stage at the Fine Arts Center for Greta's pinning ceremony in May 2019 as she completed her journey toward a Bachelor of Science Degree in nursing.
"When we walked on the stage of the Fine Arts Center, tears came to her eyes," Greta sad. "She said this was the first time she had been there since she had her graduation ceremony on the same stage in 1978.
In October 2019, it was Vicki's turn to be celebrated as she marked a 40-year nursing career at the Family Birthing Center at Mayo Clinic Health System's Eau Claire clinic.
At Viterbo, Greta got a chance to intern at the neonatal intensive care unit at Mayo's La Crosse medical center, which solidified her decision to go into obstetrics that started when she was a youngster.
"I always had an interest in helping deliver babies like my mom," Greta said. "I went to the daycare attached to the hospital and remember going to visit my mom at work. I was fascinated by the nursery and newborns there. That passion only grew in college."
Since last summer, Greta has been working in labor and delivery at North Memorial Hospital in the Twin Cities, and she said it's been invaluable to be able to compare notes with her mother.
"We talk shop several times a week," Greta said. "The bond we have is the most meaningful I have ever experienced."
As rewarding as it is to have her daughter share her vocation, when Greta was in high school her mother actually tried to discourage her from becoming a nurse. It can be a hard life at times, her mother warned, involving physical and emotional stress, sacrifices, and hardships.
Greta holds her mother in the highest esteem and values her opinion, but not on choice of career. At her pinning ceremony, Greta's message shared with the audience expressed that esteem: "It is an honor to carry on your legacy. You were the first to know I would be a nurse by the way I cared for others. We will share the art of nursing forever."