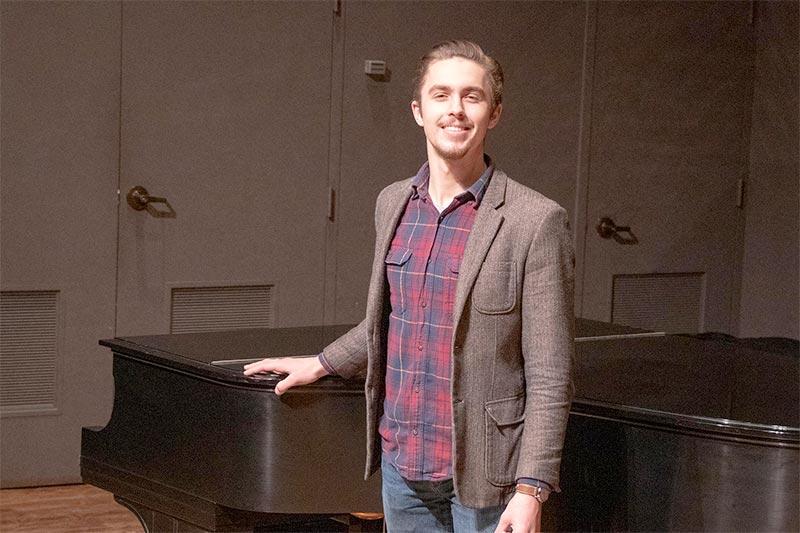 Gavin Mason, a senior vocal performance major at Viterbo University, has taken advantage of the challenges posed by the pandemic to broaden his talents.
In addition to lending his voice to Viterbo's choirs, Mason has been using his video production skills to help the music department produce clips that showcase student talent in the absence of live performances.
Mason's willingness to contribute his video-editing skills have earned him praise from faculty, but he sees it as part of the responsibility of being a senior, and also an example of the Viterbo way.
"What's nice about Viterbo is just how accessible people are, how accessible the professors are, how accessible friends are," said Mason, who grew up in Holmen. "I've heard with a lot of bigger schools, you can get lost in the class and become just a number, but at Viterbo, I've enjoyed close relationships with several of the music faculty and that's been great."
Mason's time at Viterbo has seen him perform in several operas, including The Bewitched Child, Trouble in Tahiti, and the Old Maid and the Thief. He loves opera and classical music and in addition to performing also has been sharpening his composition skills.
"I wrote two string quartets this summer and I'm working on an oboe concerto and some songs right now," he said.
Viterbo's fine arts faculty have a broad range of talents and interests across different musical styles and Mason said he's benefited from that diversity to develop his own musical tastes and skills.
A big reason Mason became a music major was the one-on-one vocal lessons he received with a Viterbo professor as a high schooler. Mason had competed in high school music competitions at Viterbo where finalists were rewarded with a lesson with faculty. The lessons inspired Mason and gave him an insight into the value of a Viterbo education.
He plans to go to graduate school after Viterbo, although he's still undecided on whether to pursue a composition or performance path. Whatever his final destination, Mason said he'll carry with him the relationships and wisdom he gained from Viterbo's faculty. It's those relationships and the overall student-centered emphasis at the university that makes Viterbo's music department stand apart, he said.
"Viterbo's strong suit is that you really can have a one-on-one relationship with your professors," Mason added. "That makes a huge difference for students."