Avery Gerstenberger came to Viterbo a few years later than most students.
By the time he arrived on campus, he'd already worked in retail and disability services and performed in musicals. But he still had not found quite what he was looking for. By chance, he met a Viterbo faculty member while he was performing in a musical. The professor encouraged him to visit the campus.
"I came and toured and thought this campus is beautiful and so personal," Gerstenberger recalls. "It felt welcoming and like somewhere that could feel like home."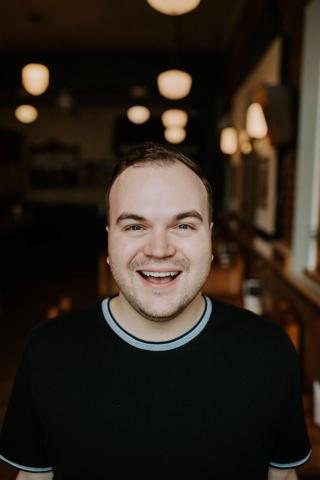 Gerstenberger started out at Viterbo as a music theatre student but switched to marketing in his freshman year. He's now a senior, preparing to graduate this year.
"I wanted to have a more intimate college experience and actually have the faculty and students know me as opposed to being one in 300 in a lecture hall knowing maybe one or two people," Gerstenberger says, adding that he found those things at Viterbo.
In the spring semester of his freshman year, Gerstenberger landed a paid internship with a national nonprofit that's headquartered in La Crosse. He's remained with the company throughout his time at Viterbo. The internship has helped him hone his marketing skills in the field, and gave him the opportunity to take business trips to Denver and Washington, D.C.
"It's been a really big experience that's been hugely beneficial and is definitely going to set me apart on my resume," he says of his internship.
Gerstenberger values the relationships he's developed with his professors at the Dahl School of Business at Viterbo, where all students have the opportunity to take paid internships.
"They know my name, they know what my goals are, and they're very helpful," he says of the faculty. "They've helped me develop my skills and helped me network, too. Our faculty have great resources in the area to help connect people with internships, which is extremely important in the business field."
Gerstenberger says that although he was several years older than most of his classmates, he never felt like he was treated differently on campus.
"Everybody is treated the same, and as somebody that identifies as part of the LGBTQ+ community, I feel very welcomed," he adds. "I was a little apprehensive coming into a Catholic university, but I've only been met with kindness and acceptance and tolerance, so that's really been important to me."
Gerstenberger says Viterbo has also provided him with an affordable college experience. He advises anyone considering coming to Viterbo to fully explore their financial aid options.
"There are a lot of scholarships available and Viterbo has made it just as affordable for me as going to a state school," he says.
Although Gerstenberger places great value in Viterbo's small class sizes, when he graduates he has his eyes set on moving somewhere big. He already has a lead on a job in Seattle, although he could also move to the opposite side of the country to live in New York.
"The possibilities for me are endless and I feel my resume is differentiated at this point from many of my peers because I've gained a lot of unique experiences while at Viterbo," he says.