Viterbo University's internship program is designed to develop and promote connections in the community while offering educational opportunities for students. Sometimes, as in the case of senior Maya Roberts, an internship also directly connects with a student's passion.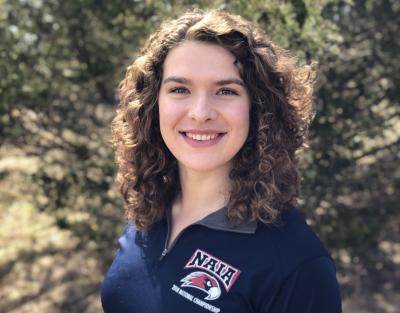 Growing up in Watertown, watching her grandmother's decline from Alzheimer's disease deeply affected Roberts. Her grandmother, who had been a teacher, showed signs of Alzheimer's disease before Roberts was born. Roberts saw the disease take its toll on her grandmother over the years until she died when Roberts was 16.
Roberts, a leadership and management major in the Dahl School of Business, took that experience with her grandmother to heart. After taking a Sociology of Aging class in spring semester of her sophomore year, Roberts added a gerontology minor to her business major, inspired by the possibility she could help people who, like her grandmother, had dementia.
Roberts found a number of ways to help people with dementia and elders in general as part of her fall semester internship at La Crosse County's Aging and Disabilities Resource Center (ADRC).
"It was such a great opportunity that I couldn't pass up the chance to be engaged in it," she said.
Early on at the ADRC, Roberts helped set up a "friendly phone" program that aimed to provide senior citizens someone to talk with during the pandemic isolation. The program provided seniors with a phone number they could call when they were feeling lonely and needed to talk with somebody. The people answering the calls were volunteers from a Viterbo gerontology nursing class.
Roberts also got a chance to co-facilitate an online class for seniors to help them give their brains a workout and improve their memories. "That was a really rewarding experience to be a part of," she said.
One of the biggest projects during her ADRC internship involved creating and promoting a training program to help businesses become more "dementia friendly." Roberts didn't start from scratch, but with her leadership and management education she was perfectly suited to make sure the training was in business-friendly language.
Roberts explained it is important for businesses and other community organizations to make their spaces dementia friendly because it allows people suffering from dementia to continue being a part of the community.
"People with dementia who don't feel supported or have a sense of belonging tend to withdraw," Roberts said. "If they don't go out, they are likely to have a more significant decline."
The training program includes a section on learning to recognize what dementia looks like and having interaction strategies that help reduce the stigma. It also offers guidance on ways to make spaces less confusing for people with dementia, including not using "busy" floor design patterns, offering prominent and clear directional signs, featuring furniture that is not too low to the ground and not too "artsy," and ensuring that the public space is brightly lit.
"In a way, a lot of being dementia friendly involves accessibility for everyone," Roberts said. "It really benefits everybody."
During her ADRC internship, Roberts' got practical experience being embedded in the operations and was given vital and meaningful work to do. And she expanded Viterbo's connection with the community, which is part of the essence of what internships are supposed to do.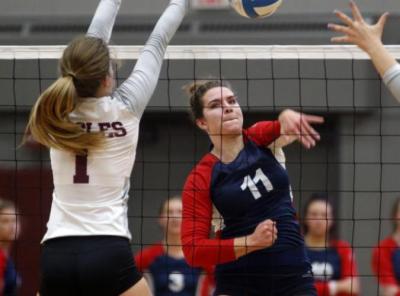 Having to conduct everything virtually instead of in person was one drawback to the internship brought about by the pandemic, but Roberts sees at least one plus from the pandemic. The standout volleyball player gets another year of eligibility, so she has decided to stick around another year to play volleyball and earn a master's degree in servant leadership.
Her attraction to the tenets of servant leadership are a big part of what brought Roberts to Viterbo. "I came to Viterbo because of the school of business and the focus on using business as a tool for good," she said.
After graduation next May, Roberts had thought about doing a volunteer year. Having a class with servant leadership gurus Tom Thibodeau and Rick Kyte, on top of the chance to play more volleyball, made her decide to pursue the servant leadership degree sooner than she thought she would.
"I am really looking forward to taking more classes with Tom Thibodeau and Rick Kyte," Roberts said.
One thing Roberts might pursue after graduation is finding a way to increase opportunities for intergenerational care, where care is provided for children and older people in one place, with both ends of the age spectrum benefiting from the other.
"In the later stages of her dementia, my grandmother just found so much joy being around kids," Roberts said. "It's the same for a lot of older people, whether they have dementia or not. Being around kids lights them up. I want to be a part of making that more common."