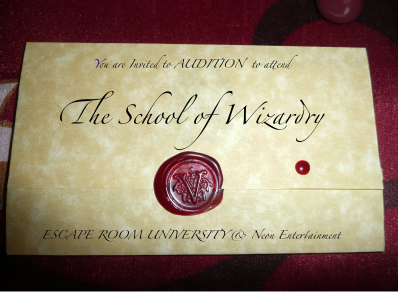 Sign up at the Welcome Weeks page to participate in escape rooms happening on Monday, September 6th (Labor Day) between 10 AM and 2 PM in the Library!
Escape rooms are 30 minutes each and there are two to choose from: School of Wizardry or Patient Zero (Zombies)
You can sign up as an individual (we can put you with a team) or as a team of up to 10 people.

Note: If your team is signed up with less than 8 people and we have individuals who sign up by themselves, please know there could be additional people added to your team.

You will choose your 4 preferred times you are available. Rooms will be scheduled in the order of sign up.
All individuals/teams must be signed up by Friday, September 3rd at Noon.
You will be notified by Sunday, September 5th in the evening when you / your team are scheduled to do your room on Monday, September 6th
If we are booked and cannot accommodate all who sign up, Student Engagement can look into doing another escape room on campus in the spring semester.
If there are room availabilities after that time, Student Engagement will reach out to the Viterbo community accordingly to fill spots.