Business major Maya Roberts values the diversity of experiences available to her at Viterbo University.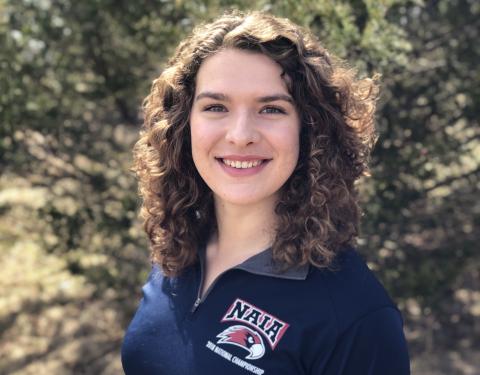 A junior from Watertown, Wisconsin, which is located about halfway between Madison and Milwaukee, Roberts is majoring in management and leadership, minoring in applied mathematics and gerontology, and is a member of the volleyball team.
"The thing that I appreciate most about Viterbo is the opportunity to do it all," she said. "I have the ability to have a major, two minors, and be on the volleyball team as well as be involved with various clubs. All of those make me a more well-rounded student and better prepared to be successful."
Roberts was recruited to play volleyball at Viterbo, but considered attending several other schools before making her final decision. The warmth she felt on her first visits to Viterbo's campus sealed the deal.
"I just loved being here," Roberts said. "The hospitality really shined through for me in absolutely everybody that I met."
Viterbo's small class sizes and the opportunity to work one-on-one with professors also impressed Roberts, who plans to work with seniors after graduation, perhaps in the management of a senior care or assisted living facility. Roberts has always had in interest in leadership, which drew her to the business leadership and management major.
"I think it's really fascinating how you're able to motivate people and best encourage them to work toward a common goal," she said.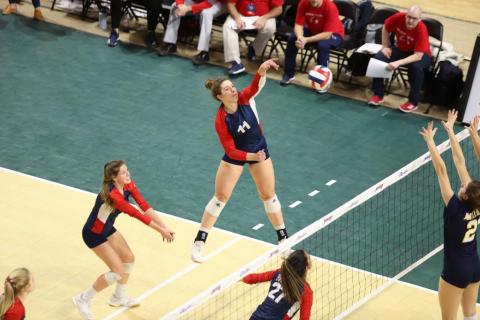 The emphasis in the management and leadership major on servant leadership, which means leadership dedicated to the common good, appeals strongly to Roberts.
"If you're able to adapt and show compassion and kindness and that you are here to serve others, I think that is the most efficient and effective way to be a leader in today's society," she said.
Roberts described the classroom experience at Viterbo as "very personal" with professors who get to know their students, and classmates who are engaged and energized.
"The professors care about you, and they care about making sure that you are going to be successful," she said. "They want to connect you with the right internships, they want to get you into the right classes for your major. That experience of the professor knowing you, and knowing you well, and knowing your strengths is what makes Viterbo unique."
Roberts said she's learned from the wide range of people she's studied with, played with on the volleyball team, or interacted with in student clubs or just on campus. Those connections, both with students and staff at Viterbo, are perhaps what Roberts values most about Viterbo.
"At a larger school, you might get lost in a crowd and only be able to focus on one very specific thing," she said. "What I've enjoyed most about Viterbo is the ability to be involved in many different things and also, it's just fun to be here."