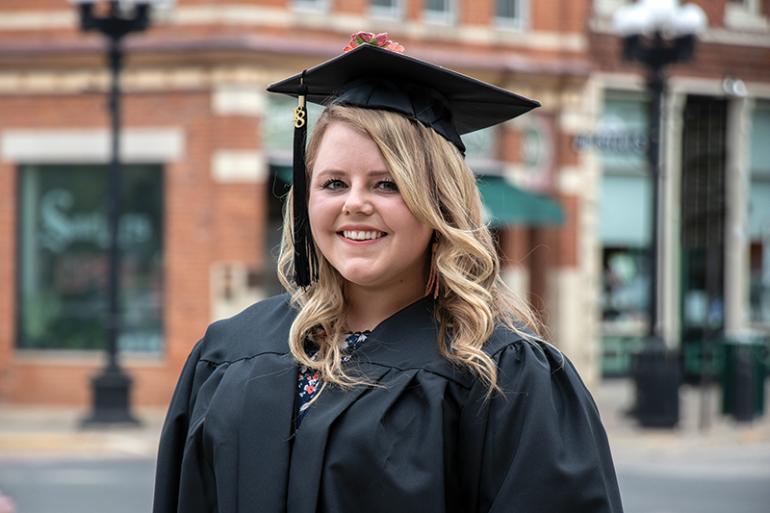 Viterbo graduate Cassie Wunnicke walked across the Fine Arts Center stage at May commencement into a career she always wanted.
Wunnicke was hired as an advocate for victims with the Gundersen Health System Crime Victims Services Unit and the Jacob Wetterling Resource Center. She had interned with her future employer as a student and had a job waiting for her when she graduated. 
"I always knew I wanted to help people," said Wunnicke, a Boscobel native who majored in social work and minored in family studies. "I like to say that social work isn't a major you pick, it picks you. I can't see myself doing anything else. I want to be a voice for people who need it."
Attending Viterbo University was an easy choice for her as well. 
"Viterbo has always been near and dear to my family," she said. "My sister and several cousins went there. I had also heard really good things about the social work program."
She is more than pleased with her decision.
"It's been great," she said. "I can't believe it's over. It is the best decision I could have made. Viterbo has opened many doors for me and has been worth every penny. The social work program was wonderful. I would recommend it to anyone. The professors are so personable and really care about their students."
Wunnicke was very active on campus and in the community as a student. She was a member of the social work club, worked as a manager at Build a Bear, and volunteered at WAFER food pantry, Place of Grace Catholic Worker House, and with Toys for Tots. She also helped at Coulee Council on Addictions as part of a class. For fun, the self-described bookworm enjoys spending time with friends and family, music, reading, and the outdoors. She always makes time to help others however.
"Volunteering is a big part of my life," she said.