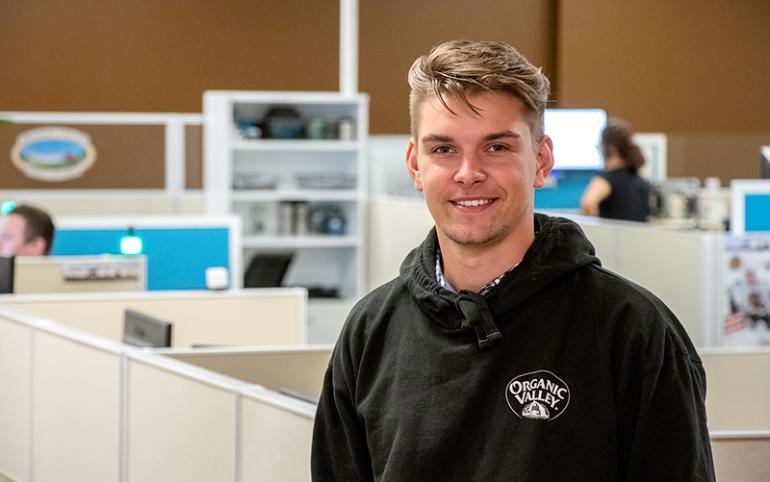 Drake Dickson had two employment offers the weekend he graduated in May 2018 with a degree in finance from Viterbo University. He chose to accept a position as an accounting inventory associate with Organic Valley, a cooperative of more than 2,000 family farms with over $1 billion in annual sales. He certainly has no regrets.
"I absolutely love it at Organic Valley," Dickson said. "I don't have a single complaint."
Dickson is one of many Viterbo students who have professional employment offers extended to them at the time of graduation. His duties at Organic Valley include the monthly reconciliation of inventory of warehouses in Wisconsin and California, ensuring accurate shipments, invoicing, purchase orders, and whatever else the job requires during a particular day.
An internship with RCI of La Crosse and his Viterbo education had him well prepared for his career, Dickson said. He also credited Alyssa Gostonczik, intern and employer relations coordinator in the Viterbo career services office, for her work in coordinating the academic side of the for-credit internship.
Dickson transferred to Viterbo, where he found the transfer credit policies, transfer student scholarship, and the guaranteed internship program in the Dahl School of Business very appealing.
"Viterbo was really great," he said. "I had a really good relationship with all my professors. Faculty member Sabrina Steger is one of my references."
Dickson lives in his native Westby, and he says the Coulee Region is the perfect place for him. He loves fishing, camping, skateboarding, snowboarding, and designing clothes. He served as the coach of the La Crosse Central High School snowboarding team last winter.