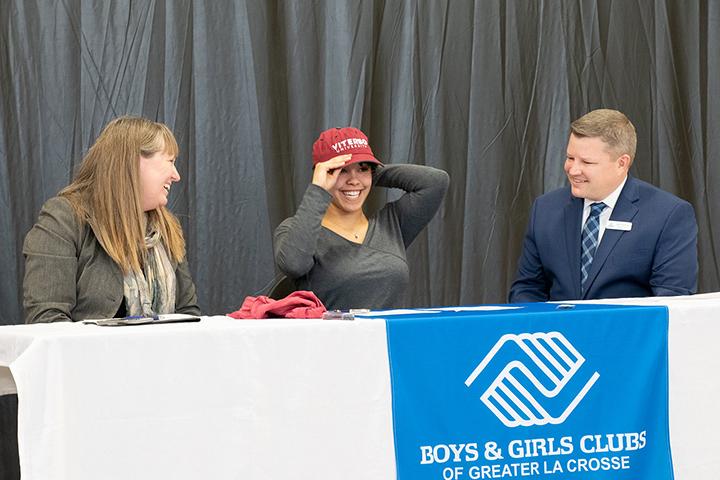 The Boys & Girls Clubs of Greater La Crosse introduced Danessa Brocks as their 2020 Youth of the Year on Feb. 5, with club Executive Director Jake Erickson and Viterbo University President Glena Temple looking on as Brocks signed her scholarship papers to attend Viterbo University.
Brocks is the first Youth of the Year Award winner to be able to take advantage of a new offer from Viterbo—a four-year, full-tuition scholarship. She is a club member at the branch opened in 2005 in the Amie L. Mathy Center for Recreation and Education on the Viterbo campus, and she was all smiles as she donned a Viterbo cap during a press conference with Erickson and Temple.
"Viterbo University is my dream school, but I've always thought it was out of reach. This scholarship will change my life and many Boys & Girls Club members to come. I am so appreciative and humbled by the opportunities that are right in front of me," Brocks said.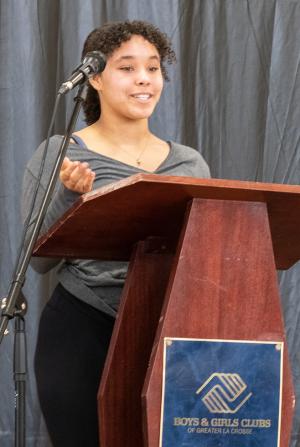 Brocks became a member of the Boys & Girls Club when she was 6 years old. Like so many other youths, Brocks needed guidance, support, and a safe place to go after school; however, she received so much more. 
"The Boys & Girls Club has prepared me for my future and the skills I will need for my lifetime, like perseverance and integrity," Brocks said. "College was the last thing on my mind because I thought I could never accomplish it, but the staff at the club pushed me to see my value and abilities."
As a senior at Central High School who has faced many challenges growing up, Brocks focuses on her academics while also working at the St. Rose Convent where she has developed close relationships with the Franciscan Sisters of Perpetual Adoration. Brocks said she loves her job working with the sisters.
"It makes me feel like I have a purpose in life and like I am doing something right. The relationships that I have been able to create in my job are the relationships that I remember having at the Boys and Girls Club," said Brocks. "My ability to form positive relationships is credited to the staff and other mentors who showed me how much they cared."
Temple extended congratulations to Brocks on behalf of the university and was clearly moved when Brocks talked about her gratitude for the opportunity she was receiving. "I know Danessa will make a wonderful addition to the Viterbo community, and we look forward to providing her with an outstanding education. This scholarship program fits the mission of both partner organizations, but it's especially great for area youth," Temple said.
 "Youth of the Year has always been the highest honor that we can award to one of our members," added Erickson, who won the award himself 25 years ago. "However, this year it is even more special thanks to our partnership with Viterbo University."
While attending Viterbo University, Brocks will remain connected to the club through volunteering at the Mathy Boys & Girls Club. It is her dream to become a social worker and help other kids in the way that the club helped her.
"While I make this big transition into adulthood and college life, I look forward to helping kids realize that they can rise above their situations. Future youths should know, their childhood does not define them," said Brocks.
As the Youth of the Year, Brocks will represent the Boys & Girls Clubs of Greater La Crosse in Madison at the State Youth of the Year competition on March 9.