Professional Achievement, School of Performing Arts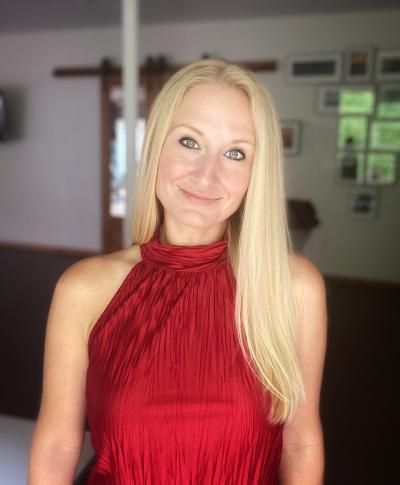 Lindsey Giese '07 spent her childhood performing in plays, singing along to Pocahontas and Beauty and the Beast cassette tapes in her bedroom, and dancing around the house to The Lawrence Welk Show. It was clear early on that she would lead a life in the arts, and Viterbo played an important part in that success.
Giese auditioned for several musical theatre programs, but ultimately Viterbo University won her over. "I felt at home the minute I stepped on campus. I was looking for a place that would push me to grow, provide performance opportunities, and foster a supportive, creative environment. Viterbo provided an excellent foundation for my future and taught me skills I still rely on today" Giese said.
After performing in her middle school and high school show choirs in Sauk Prairie, Giese was particularly excited about joining Viterbo's show choir, Platinum Edition. She is grateful for the teamwork, work ethic, and overall fun the group provided, but most of all, the lifelong mentor and friend she found in Platinum Edition director Nancy Allen.
A double major, Giese received a Bachelor of Fine Arts in Music Theatre and Arts Administration and graduated summa cum laude in 2007. For several years after graduating, she worked as the lead singer for Holland America and Celebrity Cruise Lines.
In 2012, Giese moved back to Wisconsin and became the executive director for River Arts Inc., a multi-faceted arts, theatre, and outreach organization that serves Sauk County. In this position, she presents a performing arts series, house concert series, manages a retail art gallery supporting local artists, curates art exhibits, hosts art openings, art classes, an art fair, and more.
More recently, her work has expanded to administer and manage public art on the brand-new Great Sauk State Trail, a recreation trail that will likely be the most used trail in the state of Wisconsin when it connects to Devil's Lake State Park.
She has been active in her community in other ways as well, serving on the board for the Sauk Prairie Chamber of Commerce, Network for Charitable Giving, and Friends of the Great Sauk State Trail, and a member on several steering communities for Sauk County.
She also is active in the Wisconsin Presenters Network and Wisconsin Arts Board, where she is proud to be a colleague of her former arts administration professor, Michael Ranscht, who has continued to offer guidance throughout her career.
Giese continues to sing in various cabaret style performances, with her local theatre guild, and as the lead singer for Sweet Dreams and Honky Tonks, a revue show that tours the Midwest.
"I feel like my life has come full circle" Giese said. "I'm using both of my degrees. I'm using my education to better and serve my community. I have a dream job that allows me to expand, get creative, and continue to push myself. This award has caused me to reflect on the work I've done, and I'm both humbled and grateful."