Professional Achievement, College of Nursing and Health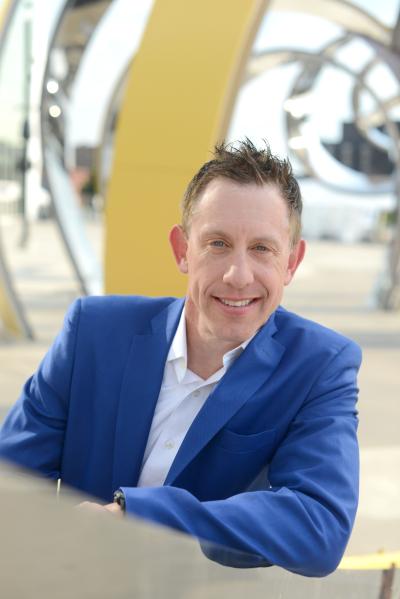 Joel Theisen '90 has nearly 30 years of experience in the health care industry with expertise in home- and community-based elder care.
After graduating from Viterbo with a Bachelor of Science in Nursing degree, Theisen trained as a critical-care nurse at Mayo Clinic in Rochester, Minn. Early on, he gained insights into how older people were treated in the healthcare system that moved him to found Lifesprk.
Lifesprk is a Twin Cities-based company that provides short- and long-term care services that address all areas of well-being for the aging to give them the quality of life that puts a "spark in their eyes."
"We have a 'sick care' system, not a 'healthcare' system. The traditional model of senior care is broken. It is no longer relevant to the active minds and spirits of today's seniors who want to live with purpose and passion. It also doesn't produce the outcomes or cost savings demanded today," Theisen said. "Transforming the healthcare system is my mission, one I formed early on in my career after witnessing seniors (or as we like to say at Lifesprk 'people in the second half of life') on and off 'the roller coaster of healthcare crisis,' where seniors were in and out of the hospital and ER —seniors were living longer, but not better."
The idea behind Lifesprk is to take a whole-person approach to care to stop the cycle that has caused skyrocketing healthcare costs for both senior citizens and the system, as well as rapid health decline. To illustrate why transformation is needed, Theisen wants people to meet "Betty," Lifesprk's muse.
After her husband died, Betty was grieving. Understandably, she wasn't eating or sleeping well. So she stopped taking her medications, which were upsetting her empty stomach. As a result, in the middle of the night when she got up to get a glass of water, she became dizzy, fell, and broke her hip.
"The medical world singularly focused on fixing her broken hip. And they did. However, as happens all too often, they overlooked identifying the root cause – why did she fall, why did she not take her medicine, why was she not eating?" Theisen said. "These human issues fall beyond the scope of medical practice today and yet are integral to creating a whole person response that seeks to heal Betty's broken heart at the same time as healing her broken hip."
Under Theisen's leadership as founder and CEO, Lifesprk has seen year-over-year double-digit growth, including in the midst of COVID, 44% growth, $41 million revenue, and $16.1 million in capital investment to fund growth, strategic partnerships, and technology development. By 2023, Lifesprk's worth is expected to top $200 million.
Theisen has positioned Lifesprk, the first complete payor-, disease-, and environment-agnostic, fully integrated, holistic home- and community-based delivery system, for the current market convergence. He is accelerating in-home/telehealth capabilities, surging senior population, rising health care costs, increasing value-based care, rebuilding senior living, and engaging seniors to take action in their own health outcomes.
Known as a business innovator, Theisen has earned numerous accolades, including being named a finalist for Leaders in Health Care by the Minnesota Business Magazine, one of the Twin Cities' 40 under 40, and honored as an Ernst & Young Entrepreneur of the Year Award finalist for the Upper Midwest in 2021, 2018, 2017, and 2011.
Prior to Lifesprk, Joel served as chief executive officer for AdvoLife, a venture-backed company in San Jose, Cal.