Kasie Von Haden is the director of academic advising, an office that plays a pivotal role in students' academic experiences. Under Viterbo's dual advising model, all students are assigned to an academic advisor and a faculty advisor within their program of study.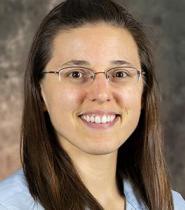 The goal of all academic advising is to assist students in taking responsibility for developing meaningful plans that are reflective of and help them achieve their educational, career, and life goals.
Academic advisors assist students in goal setting, graduation planning, registration, major/minor selection, and provide support for students facing academic challenges or who are on academic probation.
Faculty advisors typically serve in more of a mentorship capacity, helping students discern career, graduate school, research, and networking opportunities.
As director, Von Haden coordinates and collaborates with academic and faculty advisors across campus to provide these important services to student advisees.
How many years have you worked at Viterbo?
My history with Viterbo goes back a number of years, so I feel it an injustice to simply state a number of years. I attended Viterbo and graduated with my bachelor's degree just over a decade ago. During my time on campus as a student, I had a number of student jobs, including positions as a resident assistant, Voyager tour guide, editor of The Lumen student newspaper, and VU After Dark programming assistant, to name a few. I enjoyed my outside-of-the-classroom experiences so much so that I decided I wanted to stay in college forever and graduated with my master's degree in education degree two years later.
Shortly before completing graduate school, the director of campus activities and orientation position came open at Viterbo. It was fate! The office that I had been employed in as a student soon became my first professional home. I worked in that office for a few years before departing to work at another institution in town. A few years later, and an academic advisor position came open back at Viterbo. It was fate, again! I had been wanting to get involved with academic advising for a while at that time, and was waiting for something to open up. I spent two years working as an academic advisor before stepping into the director of academic advising role, which I've been in for nine months.
So, all of that to say that I have nearly five years of service at Viterbo under my belt, with a lot of history behind those years.
Areas of expertise?
I can't begin to call myself an "expert" in anything, as I think there's always more to learn. However, much of my work involves knowing degree and graduation requirements, academic policies, student success strategies, and campus resources, as well as having the ability to develop relationships with students and colleagues. My past professional hats have involved a significant amount of event planning, organization, and promoting.
An area that I am currently growing in, and particularly enjoy, is project management; this summer, we launched an enhancement to one of our online advising systems to increase its functionality to enhance communication and student success. As the primary administrator for this system, I have learned a great deal about data systems, project timelines, collaboration, and troubleshooting.
I am also a Gallup-certified strengths coach, and I like to include a strengths-based and positive psychology approach when working with students. I also have been able to educate various employee and student groups, such as honors students and student recipients of the NURSES Grant, by hosting interactive workshops that focus on personal and team development. I am also a certified personal trainer and nutrition coach, so I have a natural tendency toward goal setting and positive habit development as I work with students. There are so many natural connections with advising, strengths work, and personal health and wellness, and it's been quite rewarding to see all of the interplay as I work with others.
What do you love most about working at Viterbo?
I enjoy working at Viterbo for a number of reasons. First and foremost, and it's the reason I chose to attend Viterbo as a student, is because people matter here. Our small campus feels like home, we are cared about as individuals, and it's easy to build connections that help us all be successful–students and employees alike.
Another significant reason I love Viterbo is because our values, mission, and students are at the core of what we do. We aren't an organization that declares a mission and then does nothing with it; we live and breathe our values in service to the common good, and our students contribute to their community as impressive change-makers.
I also enjoy working at Viterbo because I get to have a variety of professional experiences. While it can be a blessing and a curse at times, we get to "wear a lot of hats" in our roles. Even though my primary role has been in advising, I also serve on committees and provide programming for topics that don't relate to my title and office. These opportunities help me learn more about the university, how to support students, as well as build relationships with colleagues.
What inspires you?
I think what inspires me most is that I, we, can always continue growing. We can learn more, do more, and become more. Helping others set and achieve goals that are important to them, become "unstuck," or work to overcome obstacles is so incredibly rewarding and gives me energy. To that end, I am continually in awe of what our students accomplish.
Students celebrate their successes with me as their advisor–from being cast as the lead in an exciting upcoming theatre performance, to setting a personal record at an athletic competition, to improving test scores, to getting a scholarship, to completing an undergraduate research project. The list goes on.
Similarly, our employees are incredibly talented individuals who do such great work in their communities, academic disciplines, and beyond that make such a huge difference in the world. And what's also inspiring is that I don't even know all of the great things our students and employees do.
What others say about you?
In the true Franciscan sense, this is a hard question to answer, as I very much shy away from the spotlight. I'll share a few quotes from students that I have found to be particularly meaningful:
"Kasie, it's really been awesome working with you. You've seen me struggle and you've seen me succeed. The conversations we had were both informative and fun. I hope you know, to me, there aren't many people like you. You attack each day with positivity and I envy that." – Chris
"Thank you for all your hard work and for coming in and helping me out even when you did not have to. It means a lot!" – Caleb
"I just want to thank you for all you have done for me. I still remember my first semester crying in your office. I have come along way!" – Donyell
"I would like to thank you for everything you did to help me. Wouldn't have made it without your help." – Anastasios