Viterbo University Show Choirs
Viterbo University Show Choirs
Platinum Edition and Diamond Edition are select show choirs that draw members from all major areas of the university. Emphasis is placed on performing literature from the pop, rock and Broadway repertoire. Students are given the opportunity to work with professional choreographers and to explore a wide variety of song styles and movement. Viterbo University's Platinum Edition and Diamond Edition were founded and are directed by Nancy Allen.
Both ensembles perform a show to entertain the local community each semester. In addition to performing regularly, Platinum Edition also tours nationally and internationally. The ensemble has toured Central America and is a regular partner with FAME Events, serving as hosts in Branson, Orlando, New York, Los Angeles, and Chicago.
Platinum Edition and Diamond Edition are open to any Viterbo University student, as well as other college students in the La Crosse area.  An audition is required to participate in either ensemble.
AUDITION INFORMATION
ONLINE REGISTRATION
All new auditioning students AND returning members are required to complete an online student profile.
VOCAL AUDITIONS
NO REQUIREMENT TO PREPARE A SONG IN ADVANCE! 
Live vocal auditions will be held on Sunday, August 29 from 2:00 – 5:00 p.m. in the Viterbo Fine Arts Center, room 404. Various audition times will also be available on Monday, August 30 and Tuesday, August 31. The audition will include a pitch and tonal memory check. You will also be asked to sing The Star-Spangled Banner acapella. Please sign up for an audition slot on the sheet located at FAC-404.
DANCE/MOVEMENT AUDITIONS  
REQUIRED FOR NEW AUDITIONING STUDENTS AND RETURNING MEMBERS
Our dance call will be held in the Dance Studio [FAC-129] on Tuesday, August 31st from 3:30 – 4:50 p.m.
No need to prepare anything in advance – everyone is taught a new movement combination.
CLASS TIMES
Platinum Edition meets on Tuesdays/Thursdays, 3:30-4:50 p.m.  Diamond Edition meets on Fridays, 1:25-2:55 p.m. Extra rehearsals may be called throughout the semester, including the Sunday and Monday of Labor Day weekend, September 5-6.
---
For more information, contact:
Nancy Allen, professor, music
Fine Arts Center room 404
608-796-3763
nlallen@viterbo.edu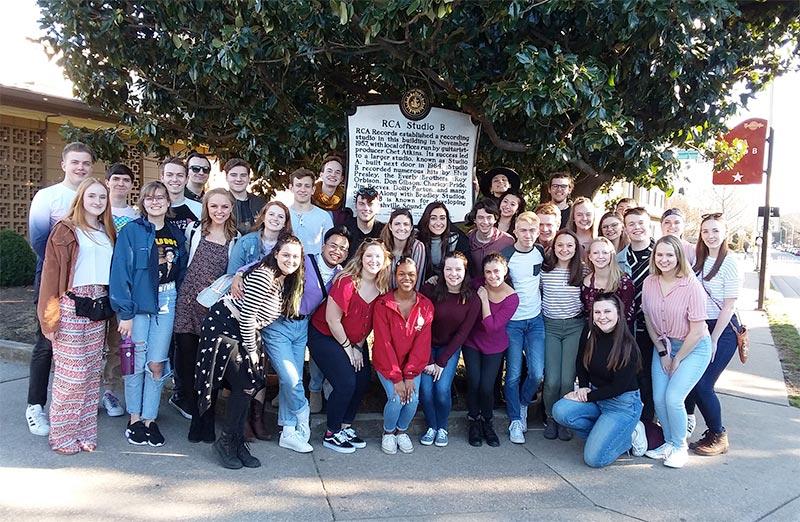 On a recent trip to Nashville to host and perform at a show choir event, Viterbo's Platinum Edition got a chance to record a song in historic Studio B, where musical giants from Elvis Presley and the Everly Brothers to Willie Nelson and Dolly Parton made hit records.