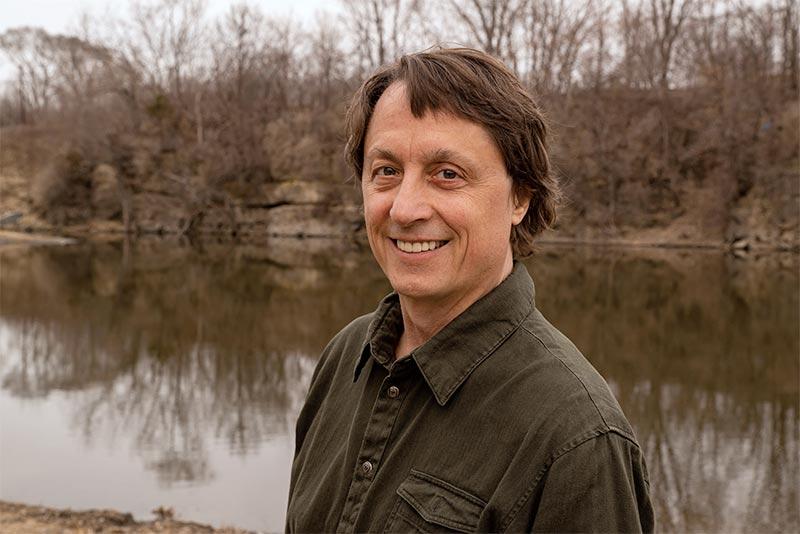 Viterbo University has built a reputation as an institution that values environmental stewardship, but Steven Marking '86 came to Viterbo with a fully developed conservation ethic. Growing up on Brice Prairie, he had a great teacher: his father, Leif, a founding member of the Brice Prairie Conservation Association and widely known for his bluebird house project.
Marking came to Viterbo to study vocal music performance, finding he had a gift for classical operatic singing after musical beginnings belting out rock songs. The prospect of working with Viterbo's voice teachers was the big attraction for Marking, but he graduated with something far more valuable than his vocal training.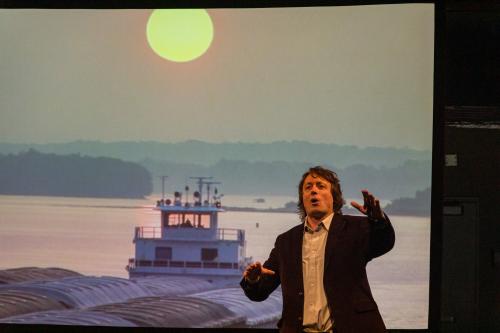 "What I fell in love with at Viterbo was the process of learning. I realized that if you learn the process, you can teach yourself almost anything," said Marking, who lives in Maplewood, Minn. "Being a lifelong student and learning that process of learning was really important to me at Viterbo."
After graduating from Viterbo and studying at the Peabody Conservatory of Music and Yale School of Music, Marking made his mark on the East Coast as a performer and voice teacher. After a couple decades, though, he felt an itch to find a new niche and the pull of the Midwest, especially the Mississippi River.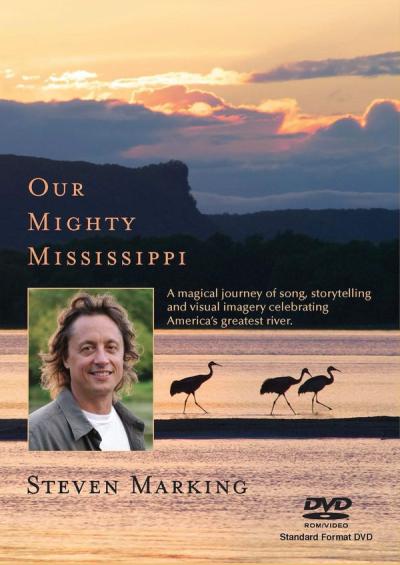 Moving back to the La Crosse area reignited the conservationist in him, and Marking started spending a lot of time on the river, capturing dazzling photographs of wildlife on the river. Inspired by the river, Marking tapped his artistic skills and environmental passion to create a multimedia show, Our Mighty Mississippi, combining photography and film, storytelling, and a wide variety of river-related music, including songs Marking wrote.
Marking has performed his river show hundreds of times since he launched it in 2009. Our Mighty Mississippi is among the many shows Marking and his wife, pianist JoAnn Funk, have presented on American Cruise Lines riverboat excursions on the Mississippi since 2012. Marking also presents river-related lectures on the cruises, covering the Mississippi's wildlife and history.
After having felt boxed in pursuing a career in classical music, Marking is feeling blessed to combine so many of his passions while working to inspire a reverence for the river and nature. "If you can create something of your own with your beliefs and it can actually make you a living, that's as good as it gets," Marking said. "These stories need to be told so people really learn to appreciate the river and our natural resources."
The pandemic has meant few opportunities for performing, but Marking has never been one to sit still. He has launched an ambitious new endeavor using the documentary film medium to tell the story of the Mississippi. Tapping into the love of learning ignited at Viterbo, Marking has spent the past year studying the art of filmmaking and learning to use all the tools of the trade.
He has some experience in filmmaking, having created Riverscapes, a 2014 DVD combining images of the river with piano interludes performed by Funk, as well as a 2017 DVD of his Our Mighty Mississippi show. With this new project, though, Marking wants to take things to the next level.
"I want to tell the story of the Mississippi River like it's never been told before," said Marking, who made four trips to the headwaters in the past year. "Canoeing the headwaters is an experience unlike anything else, and I got some amazing footage."
Sharing the river's story in film form is a way to reach multitudes more people than he ever could performing live, Marking said, a legacy he hopes will inspire love of the river for generations to come.